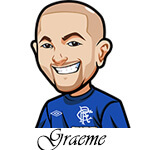 Follow @SBTSportBetting
A quick reminder that I posted Serie A Bets for September 25th yesterday if you are looking for some action in Italy tonight.
Hoping that Roma vs Atlanta game is a real barn burner.
I thought I would take a look through the Ligue 1 action in France. One nice thing about having a bad memory and then doing the xPTS Betting System early in the week is for the life of me I can't remember if there is any picks from that for tonights action, so it won't affect my picks.
Ligue 1 in France has 6 games in, and PSG are at the top although already have the one loss. Only one winless team which is Dijon.
Let's get to it:
Amiens vs Bordeaux Betting Tips:
Amiens are favourites here however it might be a tricky tie against Bordeaux who have only lost once this season. They have picked up the draws and also some wins and are currently on a 5 game unbeaten streak, including 2 away.
Amiens have had a rough start to the season however picked up a point versus Lyon and a win over Metz, who are 2nd bottom of the league.
I think Bordeaux will be a good test for Amiens and I don't see Amiens winning this game honestly. However betting against them isn't worth it with the draw or Bordeaux at 1.44 odds.
I think I'll go with the draw. Amiens have that recent little burst of form and Bordeaux will be happy with a point here.
(Odds on this page are correct as of 2019/09/25 8:33:54 AM EST but are subject to change)
Montpellier vs Nimes Betting Tips:
Montpellier have been pretty solid to start the season and their defence has looked good. Now they host a Nimes team who are unbeaten over 4 games.
Nimes have been solid defensively lately with three clean sheets but I don't think that can last. They were exposed to begin the season and I think will struggle a bit away here against Montpellier. Montpellier were frustrated by Marseille but I like them to be a bit more open at home. You just have to look at the quantity of chances they make at home in their games against Rennes, Lyon and Nice.
I'm taking Montpellier for the win as I think they can score the goals.
(Odds on this page are correct as of 2019/09/25 8:33:54 AM EST but are subject to change)

Toulouse vs Angers Betting Tips:
An intriguing game. Toulouse have a perfect home record while Angers, 2nd in the league, have lost both their away games.
I think this will be a close game. I think both teams are fairly evenly matched and the home/road split could be a factor.
I hate betting on the draw – especially twice in a day – but I do see some value in it here. Toulouse have been tight defensively at home and I think Angers would be good with a draw. I must admit the more I look at it I am leaning towards an Angers win so we'll see how it goes.
Ugh no I am changing it. I want the draw here but the more I think about it I lean towards Angers. Small play.
(Odds on this page are correct as of 2019/09/25 8:33:54 AM EST but are subject to change)

Follow @SBTSportBetting