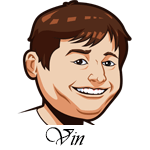 A 2-0 record last night puts us at 6-1 for the week. The system is strong! Listen to the system!
We took the Yankees over the Blue Jays in the first five innings and the offense broke a 2-2 tie in the fifth inning with a three-run homerun by DJ LeMahieu. The Yankees got a great start from Garcia who went seven innings and only allowed two runs.
The Padres had us biting our nails as we laid the -1.5, but a run in the bottom of the eighth inning sealed the cover for us. This was a good day for the Padres' deadline acquisitions as Austin Nola, Mitch Moreland, Dan Altavilla, and Trevor Rosenthal were all key contributors.
I want to quickly highlight a game that I didn't take yesterday. The system liked the Braves quite a bit, but for whatever reason I just didn't want to pull the trigger. Tommy Milone is a pitcher who has none of the things that we look for when backing a team and I just figured this one was best left on the scrap pile. Yeah, the Braves won 29-9. Listen to the system! That goes for me too.
Best Odds for MLB:
All tips based on the starting pitchers listed. Tips should be considered void if any pitching changes are made unless otherwise noted.
Philadelphia Phillies at Miami Marlins Betting Tips:
Phillies: Jake Arrieta 5.67 ERA/4.62 FIP
Marlins: Sandy Alcantara 3.78 ERA/4.92 FIP
Look, the Marlins gave up 29 runs last night and then had to get on a plane to head back to Miami. How do you think they are going to be doing today? Their bullpen is taxed and Alcantara is not the guy that is going to carry them out of this. He has a good strikeout rate, but control is an issue and his batting average on balls in play is very low. The Phillies have been hot, winning seven of their last ten games.
Jake Arrieta's numbers scare me a little, but he's running a high BABIP right now and he has a solid groundball rate. The Marlins lead the league with a 48.1% groundball rate on batted balls. Those things are connected and I think he can bring his ERA down a bit today.
Bet Phillies +105 (First 5 Innings)
Los Angeles Dodgers at Arizona Diamondbacks Betting Tips:
Dodgers: Dustin May 2.88 ERA/4.53 FIP
Diamondbacks: Madison Bumgarner 8.44 ERA/9.08 FIP
Look, I don't mean to keep picking on Bumgarner, but just look at those numbers! He's terrible, he stinks! He's made five starts this season and he's allowed nine homeruns! The Dodgers have been just okay against lefties on the year, but I don't care. They have some real boppers in the lineup and they are going to bop Bumgarner, it's just going to happen.
Take the Dodgers, they are going to roll.
I am doubling down on this pick with the over for the first five innings. Dustin May has been solid, but he's also been very lucky. He's running a low BABIP and high left on base percentage. He's a low strikeout guy and he's had his own issues with homeruns. I think the Dodgers are going to be good for 3-4 of these runs over the first four and the Diamondbacks should be able to get us the rest of the way there.
Bet Dodgers/Diamondbacks Over 5.5 (First 5 Innings)
Best Sportsbook To Bet MLB:
Register an Account.
All betting odds and props will now be viewable under the event listing.
You can deposit to BetOnline via over 20 different options such as credit card.