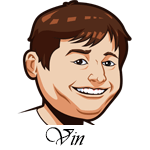 Follow @SBTSportBetting
A 1-2 record last night.
The Boston/Toronto game went under… in regulation. Unfortunately, that game needed two overtimes to get the winner so that under didn't come in for us. This was one of the best games that we've seen this playoffs and it's going to be sad to see one of these teams going home.
The Raptors did what we thought they were going to do though and forced a game seven. Kyle Lowry really came up big for the team here and we finally go the Norman Powell game off the bench. Siakam, Anunoby, Lowry, and Fred VanVleet all played 50 or more minutes in this one while Walker, Smart, Tatum, and Brown did the same for the Celtics. Game 7 might be an ugly one.
A terrible first quarter decided the Nuggets/Clippers game as Denver only managed to score 12 points in a 96-85 loss. They had a ton of turnovers early and it just didn't look like they were ready for this moment. We had the Nuggets +8 and while they played better for the rest of the game, it wasn't enough to really get back into this one. Now, the cracks are starting to show with Michael Porter Jr. complaining about the offense. He might have a point as the Nuggets are a -31 with him on the bench in this series.
This might be the end of the Nuggets. Then again, this team just came back from a 3-1 deficit in the first round so who knows. We'll get back to that tomorrow.
A quick reminder that the NFL starts tonight. I've long hated preseason football, but it usually works as a good reminder that the season is starting. It came as a bit of a surprise to me that it was here already. Thankfully, football isn't my area of expertise and Graeme has us covered. Tips for tonight's action can be found here.
Only one game on the schedule tonight as the Rockets look to hang on in their series against the Lakers.
Best Odds for NBA:
Los Angeles Lakers vs. Houston Rockets Betting Tips:
A very weird story out of the bubble as Danuel House of the Rockets is being investigated for allowed a woman into his hotel room that wasn't an approved guest. That would require a ten-day quarantine per the rules of the bubble and he just missed game three for "personal reasons" that may be related to this. House has denied wrong doing, but the NBA is not taking any chances in the bubble.
House is a key contributor to the team and his absence saw more minutes for Jeff Green, Austin Rivers, and Ben McLemore in game three. I'm not saying that's why they lost game three, but that definitely makes a difference. The Rockets are a unique team in that they are really good, but even taking one piece off of their roster really screws up the whole ecosystem. I've been high on the Rockets in this series all along, but one guy taking a woman back to his hotel room could kill the whole thing. Amazing.
House has denied wrongdoing and the NBA is expected to make a ruling on this later today.
That situation was kind of a shock for the Rockets, but I think they will be better prepared for whatever happens today. Only Jeff Green scored off the bench in game three and that simply can't happen again. The Lakers had 42 points off the bench in their game three win.
Houston has been in every game of this series, but has failed to close out in the last two. I really can't imagine the bench disparity like we saw in the last game happening again here and I still believe in this Rockets team. I'd feel a lot better knowing the status of House, but I am going to take the points once again.
Best Sportsbook To Bet NBA:
Register an Account.
All betting odds and props will now be viewable under the event listing.
You can deposit to BetOnline via over 20 different options such as credit card.
Follow @SBTSportBetting