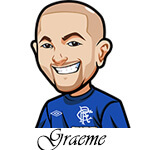 Follow @SBTSportBetting
It was a disappointing 0-2 with the betting tips on Saturday.
The Spurs one was incredibly frustrating as it was errors from Vorm that led to both of the goals. Spurs had a great chance hit the post, and then had a clear penalty in injury time turned down which would have at least made it a draw and canceled out the bet.
Oh well it is what it is and I feel at those odds it was still an okay bet.
We lost with Watford or Draw against an Utd. Utd scored two first half goals and Watford couldn't claw themselves back into the game. They had plenty of attempts too. In saying that they also needed some excellent saves by Ben Foster. It was another close one with De Gea pulling off a couple of solid saves in injury time.
So two losses but two close ones at the end at least made for some excitement and I'll take that any day.
Let's tackle both EPL games for Sunday:
Wolves vs Burnley Betting Tips:
Wolves come into this one with some solid results if disappointing performances. They're yet to win a game at home but have drawn twice here.
Burnley are struggling and are 2nd bottom but you have to wonder if the Europa League has affected them. With that in the past their players will be a bit more rested and hoping to take this one.
I am slightly concerned as I saw Dyche focusing on that – Burnley should treat this game like it's their first game of the season etc and so they may be up for that. It's a smart move by him to try and take away any low morale in the dressing room.
I just think Wolves are too strong and are pretty smart tactically. In saying that just a small bet due to Dyche attempting to change the mentality of the Burnley boys – it just might work.
(Odds on this page are correct as of 2018/09/15 7:03:51 PM EST but are subject to change)

Everton vs West Ham Betting Tips:
Everton are battling some real inconsistent performances at the moment although come into this home clash with a win and a draw at home so that's nice to see.
West Ham are still looking for their first points of the season.
West Ham really look a mess at the moment. I also have to think morale is going to be at an all time low as their next 7 games see them face off against 6 teams that finished in the top 7 last year.
That sort of thing has to really put off a team and I think that will crush their spirits.
Richarlison is still out of course but I think Everton have what it takes to pile the misery on. The price is really nice too and too tempting to ignore.
(Odds on this page are correct as of 2018/09/15 7:03:51 PM EST but are subject to change)
Follow @SBTSportBetting