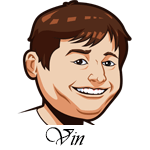 Follow @SBTSportBetting
A 2-2 record last night.
We took the Giants last night and they came through. It didn't look good as the Mariners got out to an early 4-1 lead, but a big part of this one was the Mariners bullpen and that absolutely paid off for us when Kendall Graveman allowed three runs in 0.2 innings of work to give the Giants the win.
The Yankees continued their dominance over the Blue Jays as they've scored 30 runs over the last three games. The Yankees won 10-7, but it wasn't even really that close as the Jays scored four runs in the top of the ninth. This was a crazy game as the Yankees hit FIVE HOME RUNS in the fourth inning. All of those home runs were given up by Chase Anderson.
The Cards offense didn't show up yesterday as Steven Brault had the best start of his life. He threw nine innings and only allowed one run with eight strikeouts.
We took a risk taking the Astros in the first inning over the Rangers, but it didn't come in. The frustrating thing here is that the Astros got a two-run homerun in the second inning. So I was right about them scoring in the first time through the order against Lyles, but it just wasn't the first inning. At +220, that was worth the risk.
The weekend means new series. Let's get some wins.
Best Odds for MLB:
All tips based on the starting pitchers listed. Tips should be considered void if any pitching changes are made unless otherwise noted.
Philadelphia Phillies at Toronto Blue Jays Game 1 Betting Tips:
Phillies: Zach Eflin 5.01 ERA/3.68 FIP
Blue Jays: Ross Stripling 5.88 ERA/6.53 FIP
Blues Jays: Robbie Ray 6.85 ERA/6.80 FIP
How can you possibly even think about backing the Blue Jays right now? They've given up 30 runs in their past three games! Stripling's struggles are clear as day and the Phillies offense has been hitting the ball well of late.
I absolutely do not trust the Phillies bullpen, but the Jays bullpen is equally as bad. Eflin is the key here and he's been much better on the road than at home on the season. The wind will be blowing in here at 10 MPH which should be a boost to him as well.
Just be extra careful with this one to make sure that both of these pitchers are being used in game one. Sometimes they switch which game a pitcher starts and that is super annoying to me.
UPDATE: As expected the pitching changed, but it actually benefits us. The Phillies are much better against lefties and Robbie Ray stinks. Stick with this one.
Bet Phillies -115 First 5 Innings
Chicago White Sox at Cincinnati Reds Betting Tips:
White Sox: Jonathan Stiever 2.45 ERA/3.20 FIP
Reds: Tyler Mahle 4.31 ERA/4.25 FIP
This is an all-offense pick. The wind is going to be blowing out to right at 10mph and that makes for a good hitting environment. The Reds have the better starter here, but he's been worse at home and the bullpen behind him is much weaker.
The White Sox offense is one of the best in the league and their bullpen has really been showing up for them lately. I don't expect a long outing out of Stiever so that bullpen will be key here. This is a good match-up though as the Reds offense has just a 92 wRC+ against righties on the season and an 82 wRC+ over the past two weeks.
Chicago should mash today with the winds in their favor.
Arizona Diamondbacks at Houston Astros Betting Tips:
Diamondbacks: Zac Gallen 3.15 ERA/3.93 FIP
Astros: Zack Greinke 3.77 ERA/2.95 FIP
The Astros offense has been a disappointment all season long and they are ice cold right now. They have a 72 wRC+ over the past two weeks and are facing a very good starter here. They only scored two runs last night off Jordan Lyles, one of the worst starters in the league. How do they think they will do here against someone good?
Greinke is always a guy I like and he's coming off of a couple of rough starts. He's had some bad luck in those starts and I'm expecting a solid bounce back here. The Diamondbacks have just an 88 wRC+ against righties on the season.
I think both starters start strong and run scoring is at a minimum.
Best Sportsbook To Bet MLB:
Register an Account.
All betting odds and props will now be viewable under the event listing.
You can deposit to BetOnline via over 20 different options such as credit card.
Follow @SBTSportBetting