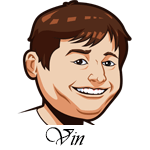 Follow @SBTSportBetting
A 1-1 record last night.
The over hit and hit big last night. The total was set at 211 and the game ended up with a 126-114 final score. Just an absolute scoring feast that is somewhat surprising to see in the Western Conference Finals.
The Lakers took over this game in the second and third quarters when they outscored Denver 67-41. Denver tried to make a run late in the fourth quarter, but the damage was done and the +7 was out of the question.
A big part of the Lakers success was getting Nikola Jokic into foul trouble. He had five fouls and was held to just 25 minutes in this one. If he can't stay on the floor, the Nuggets are in big trouble in this series. Of course, they might be anyway. This might be the best passing game that the Lakers have had all season with 33 assists on 75% of their baskets, lead by LeBron with 12. They mostly did it in the paint which is to be expected with Jokic out of the lineup for much of the game.
Tonight we return to the Celtics/Heat series where we got wins in the first half and final score in the last game of this series. We've made money on each of the first two games of this series, let's keep it going tonight.
Best Odds for NBA:
Miami Heat vs. Boston Celtics Betting Tips:
Gordon Hayward has been upgraded to questionable for game 3 and that could be a game changer for the Celtics. It's been reported that he feels great and if he suits up – that is going to really open the floor for the Celtics. There is always the question of rust, but sometimes the threat of his success is enough to change the game plan. However, questionable is the first level of the injury report below OUT so I have to continue like he's not going to be playing here.
The game 2 collapses by the Celtics was one for the ages and reports of arguing in the locker room after the game were plentiful. To the point where Brad Stevens held a late night meeting to hash things out. This could mean that this team is done. Or it could mean that they are about to play their best basketball of the season.
A big part of that will be figuring out Miami's zone defense and Brad Stevens is too smart of a coach not to find a way to break it. Of course, a big part of that will be improving their own defense which will give the Heat less chances to set up this defense. That is easier said than done with no clear answer for the problem that is Bam Adebayo.
The entire Boston season is on the line right now and I think they are going to show up for this one. They have played great basketball in the first half of both games, but the second half has been a big issue. They are going to have to figure something out to stop that turn, maybe that will be Hayward or maybe it will be something else, but if they want to another playoff letdown they need to do something. I think they will.
We fell just a basket short of the over in the last game and we are going right back to it here. That game was absolutely on pace to hit the over in the first half, but a 41 point second half performance by the Celtics kept that from happening. Since we are expecting more from Boston, that is going to mean more points and the over looks like a good bet once again.
Best Sportsbook To Bet NBA:
Register an Account.
All betting odds and props will now be viewable under the event listing.
You can deposit to BetOnline via over 20 different options such as credit card.
Follow @SBTSportBetting