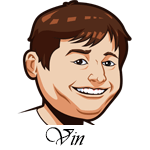 A 0-3-1 record last night.
I feel betrayed by Lance Lynn. I've always respected him and avoided betting against him for the most part. I would've backed him more if the offense behind him wasn't so terrible. Last night, we finally get the chance to back him and what does he do? Has the worst start of his entire career. Seriously.
I feel hurt by Corbin Burnes and the Brewers. This was their moment, their chance to make a dent in the playoff race. Burnes did not look like himself and exited early with a back injury. Not ideal. While the Brewers offense continued to disappoint. Last night was their 30th game scoring three runs or less. They have just a 6-24 record in those games. I'm done with that team.
I merely shrug at the Nationals who lost 3-2. Honestly, if I had a look at this lineup before the game I doubt I would've went with the Nats. Kurt Suzuki wouldn't bat third on my softball team.
The White Sox pushed.
Shaking that one off and moving on. We are having a winning September at 35-32 for +1.73 units. That was obviously a lot better before yesterday's results so let's get it back on track.
Best Odds for MLB:
All tips based on the starting pitchers listed. Tips should be considered void if any pitching changes are made unless otherwise noted. Occasionally the "follower" will be listed as we are betting on who will pitch the bulk of the innings.
Pittsburgh Pirates at Cleveland Indians Betting Tips:
Pirates: Mitch Keller 3.24 ERA/6.73 FIP
Indians: Carlos Carrasco 2.90 ERA/3.52 FIP
The Indians are only two games out of the top seed in the AL Central and the second overall seed. We've seen this team finish strong multiple times over the past few years and this year seems to be no different.
Cleveland's offense is nothing special, but Keller is begging for a bad start. A 3+ run difference in ERA/FIP is just ridiculous and hopefully we get a Lance Lynn type performance from him today.
The Pirates are one of the worst offenses in the league and have a real tough task here. Carrasco has allowed one run or less in four of his past five starts. That one start where he allowed three runs was a windy day at Wrigley Field where the wind was blowing straight out. He's rolling right now.
Miami Marlins at New York Yankees Betting Tips:
Marlins: Sandy Alcantara 3.12 ERA/4.17 FIP
Yankees: J.A. Happ 3.25 ERA/4.36 FIP
Happ has had a much rougher time in his home starts with a 4.85 FIP at home. Lower strikeouts and higher walks are the cause of that. The Marlins offense has been very good against lefties with a 111 wRC+.
The Yanks offense is just crushing now that everyone is getting back healthy. Over the past two weeks, they have a 146 wRC+. They have a 124 wRC+ against righties on the year. Alcantara isn't scaring anyone and the Marlins bullpen is straight trash.
Homeruns, they are coming.
Chicago Cubs at Chicago White Sox Betting Tips:
Cubs: Yu Darvish 2.22 ERA/2.23 FIP
White Sox: Dylan Cease 3.52 ERA/5.92 FIP
The White Sox have had a rough go lately as they just seem to face good starters every time out. Tonight they face one of the best in baseball as they go against Yu Darvish. He has a huge strikeout rate, a low walk rate, and a microscopic HR/9 rate. He's just killing it and while I have the utmost respect for the White Sox offense, I think he can get through the first two times of the order without much damage.
Cease, I think will suffer a lot of damage. A huge FIP differential here with a huge walk rate, average strikeouts, and a very low BABIP. The Cubs offense is kind of blah of late, but they should be able to squeak through a couple and Darvish will handle the rest.
Bet Cubs -0.5 (-120) First 5 Innings
Best Sportsbook To Bet MLB:
Register an Account.
All betting odds and props will now be viewable under the event listing.
You can deposit to BetOnline via over 20 different options such as credit card.