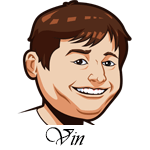 A 87-71 record during the regular season.
We were +3.55 units for the regular season. There were two games that I went two units on in August that lost (the only times I did two units all season), but we managed to post a 55% winning percentage while posting almost every single day of the season. (You can also throw in a 5-3 record for our Win Totals predictions.) The system typically gets stronger as the season goes on and we get more data, but that was out of the question this year. I'm proud of how the system did and excited to see how it is going to do in the playoffs.
The system I will be using for the playoffs is a modified version that takes into account season stats, home and away, and then the past thirty days. These playoffs are going to be a real test with so many fresh match-ups that we haven't seen and neutral park factor. I do think the system will perform well because of the lack of bullpening available to teams with no days off. We are going to see the bad starters and they are going to have to actually pitch. I definitely think that is the sort of thing that is going to benefit the system.
I will be posting tips for every game of the MLB Playoffs. As always, we do the tips on this website for free. If you bet all of my MLB tips all season, you would be up. If you bet all my NBA tips for the playoffs, you would be up. If you bet Graeme's NFL tips for this season, you would be up.
Excluding this month's golf(simply because we haven't added it up yet), this website has a 90-77 record for the month for +17.34 units. A $100 bettor would be up $1700 for the month if they simply followed what we post each day.
We are good at this and we're glad to have you here reading. However, if you have bet with us and had success, I am going to ask for one simple favor from you: try a new sportsbook and sign up via our link. We get a kickback from the sportsbook for you doing so at no cost to you. Heck, most of these sportsbook offer a bonus just for signing up so you're making money on this deal.
If you are able, please click one of these links below to sign-up and a try a new sportsbook. We'd really appreciate it.
US: Bovada | BetOnline | Intertops
Canada: Sports Interaction | Bet365 | Intertops | 888 Sport
Everywhere Else: Bet365 | Intertops | 888 Sport | Sports Interaction | Bovada | BetOnline
Best Odds for MLB:
All tips based on the starting pitchers listed. Tips should be considered void if any pitching changes are made unless otherwise noted. Occasionally the "follower" will be listed as we are betting on who will pitch the bulk of the innings.
Houston Astros at Minnesota Twins Betting Tips:
Astros: Zack Greinke 4.03 ERA/2.80 FIP
Twins: Kenta Maeda 2.70 ERA/3.00 FIP
Greinke had some bad luck during this run, but over his last seven starts he allowed three runs or more in all of them. I say unlucky because he had a lower FIP than ERA in every game but one. The Dodgers and Padres are in there, but the rest of the starts are against the Mariners, Diamondbacks, Rangers, and Athletics. All offenses that are average at best. The Twins were right in that area too, but they were strong against righties and they just have so much more upside if Buxton and Donaldson are healthy and in the lineup. I think the Twins can and will score off Greinke, continuing his tough run.
Maeda is a pitcher that I know is good, but I don't trust his schedule at all. The Pirates, Brewers, Indians, and Tigers all had offenses in the bottom-four in the MLB against righties. Say what you want about the Astros this season, they still have dangerous hitters and they are a lot better than that sad lot.
I really like both of these pitchers, but I don't see either of them making it past the sixth inning unscathed and this line is way too low for the offensive potential.
Bet Astros/Twins Over 7.5 Runs
Chicago White Sox at Oakland Athletics Betting Tips:
White Sox: Lucas Giolito 3.48 ERA/3.19 FIP
Athletics: Jesus Luzardo 4.12 ERA/4.19 FIP
I know you have to go with who brought you, but I was surprised to see the Athletics go with the lefty Luzardo here because the White Sox are so freakin' good against lefties. They finished the season with a 142 wRC+ against lefties. 36.8% of their hits against lefties were considered hard contact and we should see some more of that here today.
(I do get a little worried about these stats as maybe there just weren't any good lefties in the AL/NL Central, but in this match-up I think the numbers are right on.)
These pitchers are probably much closer statistically than their stats show, but Gio is the better strikeout pitcher and he has the better match-up. Both their offense and bullpen finished the season below average, and this could be the start of another early exit for Oakland.
Toronto Blue Jays at Tampa Bay Rays Betting Tips:
Blue Jays: Matt Shoemaker 4.71 ERA/5.95 FIP
Rays: Blake Snell 3.24 ERA/4.35 FIP
Not sure what the Blue Jays are thinking here, but it is absolutely not going to work. Shoemaker isn't going to go long which is smart, but there also really isn't anyone behind him that scares me. In year's past I went with 2nd half stats as a secondary stat for the playoffs, but for this year I'm going with last thirty days (basically the second half). During that time, the Jays have the worst bullpen of any AL playoff team. So doing that here is a real headscratcher.
Blake Snell has not been his usual dominant self this year, but he's had success. He had a nine-strikeout, two-runs allowed performance against the Jays back in August. I can see more of that here. He was much better at home on the season.
This is a bullpen game so I am waiving the starter rule for the Jays. Whoever pitches, go against. I like the Rays to win every second of this one, but the best value is probably the five inning line.
Bet Rays -0.5 First 5 Innings (-125)
New York Yankees at Cleveland Indians Betting Tips:
Yankees: Gerrit Cole 2.84 ERA/3.89 FIP
Indians: Shane Bieber 1.63 ERA/2.07 FIP
I really hate to bet the Indians and that horrid offense, but Shane Bieber is just that good. Nobody has pitched better than him this season and I think he's going to put his team in a great position to win today. The Yankees are a very good offense, but Bieber is the best pitcher on the slate by a lot and he's been even better in his home starts this year.
Cole is great, but there is no arguing that he's been a disappointment with the Yankees. He finished the season really strong and I wouldn't be surprised to see a great start from him. I just don't think he's going to win. The bullpen behind him has been far shakier than it has in the past and he has an insanely tough match-up tonight. Even with the crappy Indians offense.
This isn't a bet on the Indians, it's a bet on Bieber. The system thinks he'll be great.
Best Sportsbook To Bet MLB:
Register an Account.
All betting odds and props will now be viewable under the event listing.
You can deposit to BetOnline via over 20 different options such as credit card.