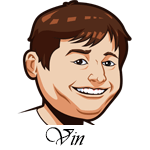 A 2-2 record last night.
We got the wins with the White Sox and Rays, but lost on the Indians and the Twins/Astros over. Gerrit Cole showed up huge and the Indians offense was able to get to Bieber.
The loss that really hurt is that over though as the Twins managed to load the bases with one out in the first inning and came up with nothing. Then in the ninth they put two on with one out before a double play ended the game. Just painful.
A quick note to people who subscribe via email: The process we use for sending out emails has been balking at sending them earlier for some reason and we've had to send them out later the last two days. If there are games and you haven't seen an email yet, always check the site because I aim to get these up early.
EIGHT GAMES TODAY. Let's get to it.
Best Odds for MLB:
All tips based on the starting pitchers listed. Tips should be considered void if any pitching changes are made unless otherwise noted. Occasionally the "follower" will be listed as we are betting on who will pitch the bulk of the innings.
Cincinnati Reds at Atlanta Braves Betting Tips:
Reds: Trevor Bauer 1.73 ERA/2.88 FIP
Braves: Max Fried 2.25 ERA/3.10 FIP
This game could be very similar to how the Indians game turned out yesterday. Bauer has been one of the best pitchers in the league this season, but he's facing one of the best offenses that he's seen all year. The Braves have a 126 wRC+ against righties on the year and they can absolutely make Bauer's day short here.
Fried has had good numbers all season long and the Reds have just a 78 wRC+ against lefties.
Houston Astros at Minnesota Twins Betting Tips:
Astros: Jose Urquidy 2.73 ERA/4.71 FIP
Twins: Jose Berrios 4.00 ERA/4.06 FIP
There is no line up on this as I am writing.
The system favors the Twins at about -160 and likes the total to go over nine runs. It is the highest total of any game on the board as things stand right now.
I'll update this if I see a line before the game starts. It looks like it might be a good over bet or else if the Twins are less than -150, I'd jump on.
Update: The line came out and the moneyline is right about where the system said. The over/under is set at eight though and we should pound that. Winds are going to be blowing out big time today and this was already the highest total of the day.
Miami Marlins at Chicago Cubs Betting Tips:
Marlins: Sandy Alcantara 3.00 ERA/3.72 FIP
Cubs: Kyle Hendricks 2.88 ERA/3.55 FIP
The Marlins better hope that Alcantara goes deep into this one because their bullpen is highly suspect. He averaged right at six innings per start, but I can see him going a bit shorter with the playoff nerves and all that.
Hendricks was much better in his home starts this year with a 2.80 FIP and I think he'll do well here. Neither offense is all that exciting.
This is a bit higher than I'd like to pay for this bet, but the Marlins bullpen makes it worth it. The winds will be blowing out early which could spell trouble for the starters. The Cubs have a huge pen advantage so stick with it.
Chicago White Sox at Oakland Athletics Betting Tips:
White Sox: Dallas Keuchel 1.99 ERA/3.08 FIP
Athletics: Chris Bassitt 2.29 ERA/3.59 FIP
Bassitt had a nice finish to the season, but he's not a great strikeout pitcher and he had a very good ERA/FIP differential thanks to a very high left on base percentage. The White Sox are a very dangerous offense and they should be able to exploit him.
Keuchel is a groundball machine while the Athletics hit the least amount of groundballs in all of baseball. Something has got to give today and I'm expecting a shorter outing from him.
Bet White Sox/Athletics Over 7 Runs
Toronto Blues Jays at Tampa Bay Rays Betting Tips
Jays: Hyun-Jin Ryu 2.69 ERA/3.01 FIP
Rays: Tyler Glasnow 4.08 ERA/3.66 FIP
Neither offense was very impressive in game one, but the system sees more action here.
Ryu is very good, but the Rays had a killer 121 wRC+ against lefties on the season and he's not likely to go deep. The Jays bullpen is vulnerable and I think we could see some real fireworks here.
Glasgow is good with big strikeout potential, but he's been slightly worse at home this year, the Jays offense is solid, and he has not gone very deep in games this year. There is enough here to bet the over.
St. Louis Cardinals at San Diego Padres Betting Tips:
Cardinals: Kwang-hyun Kim 1.62 ERA/3.88 FIP
Padres: Chris Paddack 4.73 ERA/5.02 FIP
I don't see things going well for Kim here. He had a tiny strikeout rate, he was very lucky, and the Padres offense is better than just about anyone he faced this year.
Paddack is a weird choice for game one as he's been pretty feast or famine. Six of his twelve starts have seen him allow three or more runs. The Cardinals offense isn't the scariest, but they have hitters and it could be another short outing for Paddack.
Bet Cardinals/Padres Over 8 Runs
New York Yankees at Cleveland Indians Betting Tips:
Yankees: Masahiro Tanaka 3.56 ERA/4.42 FIP
Indians: Carlos Carrasco 2.91 ERA/3.59 FIP
Fool me once, that's all you get in the 2020 MLB Playoffs.
The Indians offense is just too bad to trust. Tanaka has had some rough starts this year, but he's actually been much better away from Yankee Stadium. The Indians offense has only an 87 wRC+ against righties on the year.
Carrasco has great stats – I just can't go with him against this offense. They have a 122 wRC+ against righties and we just saw what they did to Bieber. Carrasco isn't as good as him. This could be an early exit for Cleveland.
Note: There is some strong winds blowing out to right expected tonight. I don't think I should even have to say that is a boost to the Yankees already strong bats.
Milwaukee Brewers at Los Angeles Dodgers Betting Tips:
Brewers: Freddy Peralta 3.99 ERA/2.41 FIP
Dodgers: Walker Buehler 3.44 ERA/4.36 FIP
The name says Freddy Peralta, but this is likely going to be a bullpen game for Milwaukee. He might start, he might pitch second. Doesn't matter. Brewers stink.
Buehler is one pitcher where I think he's way closer to his ERA than FIP. He's been limited all year long as the Dodgers have so many riches that they can do that sort of thing. He had a 1.40 FIP at home this year and gets the pleasure of facing the worst team against right handed pitchers in the playoffs. Milwaukee had just a 83 wRC+ on the season against righties and now face a really good one.
I would not be surprised to see the Brewers shut out here and the Dodgers rolling. Lay the runs.
Best Sportsbook To Bet MLB:
Register an Account.
All betting odds and props will now be viewable under the event listing.
You can deposit to BetOnline via over 20 different options such as credit card.