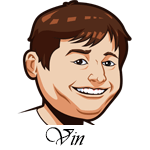 Follow @SBTSportBetting
A 2-1 record last night.
Seattle got another great start by Justus Sheffield as he threw 7 innings and only allowed two runs. We took the five inning line for the Mariners here and it ended up being close than we thought, but it came in thanks to Sheffield and a rough third inning for Gibson.
We also got the 5-inning line win with the Giants over the Diamondbacks thanks to back-to-back homeruns by Evan Longoria and Darin Ruf. Madison Bumgarner being homer prone was one of the key reasons we took this play so it was nice to see him come through for us.
The Blue Jays ended up falling behind early, then storming back to take the lead and then blowing it in the bottom of the ninth. This was a real clash with the teams combining for 31 hits so it is not surprising that it ended up with "who hits last" being the winner.
A lot of crazy weather out there today with winds and heat throughout baseball. I really want to go with the White Sox today, but there isn't a good way to bet it. The moneyline is -239 which is too high for me and the -1.5 is -142 which doesn't seem worth it. I'd recommend both bets or throw the White Sox in on a parlay, but it's just a bit more costly than I typically do.
Best Odds for MLB:
All tips based on the starting pitchers listed. Tips should be considered void if any pitching changes are made unless otherwise noted.
Arizona Diamondbacks at San Francisco Giants Betting Tips:
Diamondbacks: Alex Young 4.50 ERA/5.57 FIP
Giants: Johnny Cueto 4.75 ERA/4.44 FIP
Remember early in the season when we'd pick on Cueto? Good times. He's rebounded nicely this season and has allowed two runs or less in three of his past four starts while upping his strikeout rate. One of those wins was his last time out when he held the Diamondbacks to just one run in 6.2 innings of work.
The Giants offense has been a favorite around here for awhile now and they absolutely crush lefties. Young struggles with the walk and the homerun so you know we like the Giants to keep on rolling here.
Texas Rangers at Seattle Mariners Betting Tips:
Rangers: Jordan Lyles 8.59 ERA/5.67 FIP
Mariners: Justin Dunn 4.33 ERA/5.89 FIP
Dunn has put up back to back scoreless starts while posting his best strikeout numbers of the season in both of them. He's made two starts against Texas this year and both saw him go six innings and he's only allowed two runs against them all season. The Rangers offense, as I've said many times, stinks.
The Mariners are rolling right now having won four straight and nine out of their past twelve games. The offense does well against righties and Jordan Lyles is VERY hittable. Low strikeouts, high walks, low groundball rate, and high HR/9 is the four things I look for when going against a pitcher and he checks all the boxes.
I still don't trust the Mariners bullpen since they traded it all to San Diego, but I like the 5 inning line here.
Bet Mariners -135 (First 5 Innings)
St. Louis Cardinals at Chicago Cubs Betting Tips:
Cardinals: Dakota Hudson 2.77 ERA/3.80 FIP
Cubs: Jon Lester 5.11 ERA/5.06 FIP
I don't care who is pitching here because the winds are going to be blowing out to left-center at 20-25 miles per hour. This is the kind of Cubs game that we all remember happening. No park in baseball is as wind-aided as this one and it is really going to show just how much it can be tonight. The sportsbooks have the total at this one set for 12.5 and you know what? I don't care!
Both offenses should see a big boost today, but I can see the Cardinals having a great time early. Jon Lester is low strikeouts and has a 1.7 HR/9 rate this season.
Dakota Hudson is a groundball pitcher, but he's running a very low BABIP and has allowed homeruns this year. This is the kind of game that can really mess with a pitcher and I expect him to give up some runs.
I'm looking for huge runs here and will be betting the over.
Best Sportsbook To Bet MLB:
Register an Account.
All betting odds and props will now be viewable under the event listing.
You can deposit to BetOnline via over 20 different options such as credit card.
Follow @SBTSportBetting