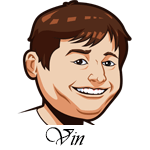 Follow @SBTSportBetting
A 1-1 record last night.
We took the Blue Jays over the Yankees and this one was close until a TEN RUN SIXTH INNING by the Jays. Ryu had a rough start and the Jays were down 6-2 heading into the bottom of the sixth, but the Jays then answered with TEN RUNS. If you get a chance to bet a team that scores TEN RUNS IN ONE INNING, I highly recommend it. It's pretty fun.
The Padres got the win, but failed to cover the -1.5 runline. They only scored one run in this game as the offense just wasn't there. This game featured a real dumb moment when Eric Hosmer, one of the Padres' top hitters, decided to try and bunt with two strikes and hit his fingers and had to leave the game. Why?
We took the Athletics and they won easily, but they ended up not starting Frankie Montas so the tip was considered void. As always these tips are based on the starting pitchers listed.
Best Odds for MLB:
All tips based on the starting pitchers listed. Tips should be considered void if any pitching changes are made unless otherwise noted.
New York Yankees at Toronto Blue Jays Betting Tips:
Yankees: J.A. Happ 4.68 ERA/5.87 FIP
Blue Jays: Taijuan Walker 3.26 ERA/4.62 FIP
We're going back to the Blue Jays here. The Yankees bullpen is clearly not in a good place right now and Happ is having a very rough season to date. He's got everything we look for when going against a pitcher: low strikeouts, high walks, and a high HR/9 rate. He's also running a very low BABIP right now so there is a chance things can get worse for him.
Walker is just fine and I think he's gotten better as the season has wore on. The Yankees offense is dealing with a ton of injuries right now and his been cold for the past two weeks.
Cincinnati Reds at Chicago Cubs Betting Tips:
Reds: Tyler Mahle 3.90 ERA/4.82 FIP
Cubs: Alec Mills 5.50 ERA/5.57 FIP
Mills stats look rough, but he's been much better at home than on the road. I am expecting him to have some success here with the winds blowing in at 15-20 MPH and the Reds being a disappointing offense.
Mahle has been much worse on the road this year and he's been very lucky with a high batting average on balls in play and a really high left on base percentage. Things are going to go bad for him eventually in those areas. The Cubs have been the better team all year and should continue to be here.
Seattle Mariners at San Francisco Giants Betting Tips:
Mariners: Ljay Newsome 2.57 ERA/5.44 FIP
Giants: Logan Webb 4.71 ERA/3.51 FIP
This is a scenario with two offenses that are really clicking right now and two starters that don't scare me all that much. Both of the bullpens are bad and this just looks like a great spot to grab the over.
A small sample size on Newsome with only two appearances, but homeruns were a problem for him. The Giants offense can hurt him here. Webb's numbers are better and he's been unlucky with BABIP/LOB%, but he's also had a big problem with walks. The Mariners offense can punish him and they are one of the hottest teams in baseball right now.
Bet Mariners/Giants Over 8.5 Runs
Best Sportsbook To Bet MLB:
Register an Account.
All betting odds and props will now be viewable under the event listing.
You can deposit to BetOnline via over 20 different options such as credit card.
Follow @SBTSportBetting