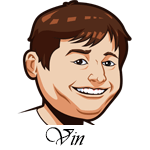 Follow @SBTSportBetting
A tough 0-3 yesterday.
I just can't get a handle on this Heat/Bucks series. To be fair, yesterday's outcome was definitely changed by the mid-game loss of Giannis for the Bucks. I think if they play the whole thing without him, the Heat are more prepared for that. I think if they play the whole thing with him, they don't play the same type of basketball with the same type of aggressiveness.
A great win for the Bucks to be sure, but they needed everything they had just to get to overtime and I'm not sure that is repeatable.
The Rockets/Lakers game was much more frustrating. I've been touting the Rockets improved defense and then it just didn't show up yesterday. They allowed 36 in the first quarter which put them in a hole that ultimately cost us the under. The Rockets stormed back strong in the third quarter with a 41-23 score, but just didn't get it done in the fourth quarter.
It was especially frustrating watching Russell Westbrook shoot wide open threes that clanged out. The Lakers were giving him those shots for a reason and he was too stubborn not to take them. The last two minutes of this one were especially frustrating since the Rockets lost by 8 and we had them +6. Just make a basket!
Today we are back on the Celtics/Raptors and Nuggets/Clippers. Let's get back on track.
Best Odds for NBA:
Boston Celtics vs. Toronto Raptors Betting Tips:
The Raptors have taken the last two games in this series and now the pressure is on Boston. This series has been defined by kind of ugly play with the scoring being down. Every game thus far has seen the under hit and I see no reason why that is not going to continue here.
A 2-2 series is not the time when teams usually start scoring 120 points. Five games in nine days is not an easy schedule on anyone's body, especially with how hard these teams are playing. Another 100-93 type game seems very likely here.
Bet Celtics/Raptors Under 212.5
Los Angeles Clippers vs. Denver Nuggets Betting Tips:
Here's a stat: The Nikola Jokic/Jamal Murray Nuggets have never won a Game 3.
The team made some great adjustments and really hounded Kawhi Leonard on defense in Game 2. They are coming in here with some momentum, but also some injury woes and Nikola Jokic is listed as questionable in this one. If he doesn't play, I really don't give the Nuggets much of a chance here. All the defensive schemes and things that they do only work because Jokic is on the floor. He had a +18 plus/minus in the last game, leading all Nuggets.
I hate how big the line is for this one because I think the Nuggets are a different team than we saw in game one, but I just have a really hard time seeing the Clippers not making necessary adjustments to free up Kawhi. I can also see Paul George having a nice game here. He has to do better when teams focus on Kawhi and last games 7-for-19 is not it.
I hate going with an IF bet, but only bet this when you find out more about Jokic and his status. If he's out or limited minutes, bet the Clippers -9. Otherwise, I think it will be too close.
Bet Clippers -9 If Jokic is out or limited minutes
Best Sportsbook To Bet NBA:
Register an Account.
All betting odds and props will now be viewable under the event listing.
You can deposit to BetOnline via over 20 different options such as credit card.
Follow @SBTSportBetting