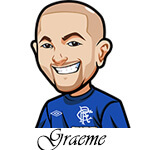 Hi all,
Well I'm sitting here in my Halloween costume (Hulk Hogan) being interrupted by trick or treaters every few minutes so this write-up will be short.
Don't worry I spent hours today doing the work. It's just this part of the write-up where I just don't have the time for it unfortunately so will have to bullet point.
It'll be the same next week or I may even skip next week as I'm off to Wisconsin. Going to the Packers-Lions game on the Monday night and then to see GNR on Tuesday night.
Should be a good trip and hopefully I can get myself some extra spending money for it with these bets:
Shriners Open 2017 Betting Tips:
Chesson Hadley: 1/4 unit to win & E/W.
Webb Simpson: 1/4 unit to win & E/W
Scott Piercy: 1/4 unit to win & E/W
Ryan Moore: 1/2 unit to win & E/W
Turkish Airlines Open 2017 Betting Tips:
Haotong Li: 1/4 unit to win & E/W
George Coetzee: 1/2 unit to win & E/W
Bernd Wiesberger: 1/4 unit to win & E/W
Peter Uihlien: 1/4 unit to win & E/W
Adrian Otaegui: 1/4 unit to win & E/W