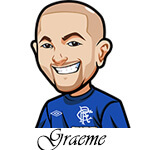 Follow @SBTSportBetting


[Get Exclusive Tips on our Patreon, Ad-Free
]
Quick note – one of my friends recently started an app called "Scorers" where once per week, you pick a player that week and get points if they score goals. You then can't pick that player the rest of the season.
It's free to enter with a general tournament going with a prize pool of £250 and is open worldwide. You can then set up private leagues etc.
Check it out if you could – appreciate it.
---
One thing I'd like to get going again this year is regular soccer tips. I know many of you followed me to SBT from my betting tips at BetSoccer.ca. I ran that from 2017-2021, going 528-660 for +82.88u profit over those years.
Everything to do with COVID kind of killed my interest in it. I still watched religiously, but I just didn't have the same interest in analyzing things etc. Hell I even stopped playing Football Manager – says it all right there.
The World Cup 2022 and doing daily betting tips here helped with my motivation again, and then Glasgow Rangers (my team) and their tactics at the tail end of last season really got me going. Of course two games into this season, not exactly sure I feel the same way. I'm a couple of bad results from yelling "BEALE OUT" at the top of my lungs.
So time permitting I will be aiming to do weekly soccer tips and bets over a variety of leagues. I'm taking a real casual approach to these as I am just easing my way back in. Honestly it's one of those things where I'd prefer to just do privately until I feel confident, but I do find writing things out helps me out a lot.
I'll be using decimal odds just because it's easier to calculate. My general threshold which carries over from NHL is no lower than 1.70 or above. Right now just consider everything 1u I guess – I don't want to muck about with confidence at this time. Down the road when actually feeling more confident, I will.
Soccer Bets: August 12th-13th, 2023
Just going with the Scottish leagues at the moment due to actual data. England etc is guesswork at this stage.
Celtic vs Aberdeen – Both Teams To Score. 1.75. Based on what we've seen, I don't think we have any concerns over Celtic scoring in this match. What about Aberdeen? Well they're at home and should go for it. They couldn't score against Livingston with nothing on target but they have the offense to do it. They have the talent. Celtic have a new centre half partnership which is still gelling, and Joe Hart is an absolute liability. Would be really surprised if the sheepshaggers don't get a goal here. Was tempted to do 2u here.
Rangers & Dundee Utd To Win. 0.5u double @ 2.07. Rangers didn't look great against Killie last week. Tactically, we were god awful. Looked better against Servette and I loved the usage of Cantwell in that game. I do have concerns about how we can break down the low block, but I think Beale should be able to get a result.
Dundee Utd looked excellent last week and really up for it. They're going to be coming in with confidence here. Hosting their first home game of the league as well, and Dunfermline missing a few first teamers.
Ross County To Beat St Johnstone. 2.05. St. Johnstone have really struggled this season in the cup, and their league campaign got off to a bad way with Hearts dominating them on the ball. Ross County looked fine in the league cup, and managing to score twice against celtic with a solid second half performance was decent to see. Think Ross County should be able to get a result here.
Remember to sign up for the Scorers App. It's free and I don't get anything out of it – just hoping to help a mate out who worked really hard on it.
Follow @SBTSportBetting