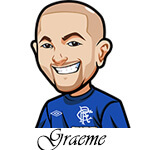 A fun start to the 2020 golf calendar season, as the first PGA tournament of the year, the Sentry Tournament of Champions, ended in a playoff.
it featured Justin Thomas versus Patrick Reed versus Xander Schauffele.
Justin Thomas ended up walking away the winner there and props to him for that. He looked excellent and you really have a feeling this is going to be a massive year for him don't you?
It was also a profitable start to the year for us and I am quite proud of my analysis.
For that tournament I did a rare bet on someone to finish "Top 5", as opposed to E/W. That was Patrick Cantlay and a 1u bet. I said that I felt he would be near the top but not actually be able to win.
Called that one exactly as while he was unable to secure a spot in the playoff, he had a nice and solid 4th place finish, a few strokes off the leaders.
Here's the betting slip for that one: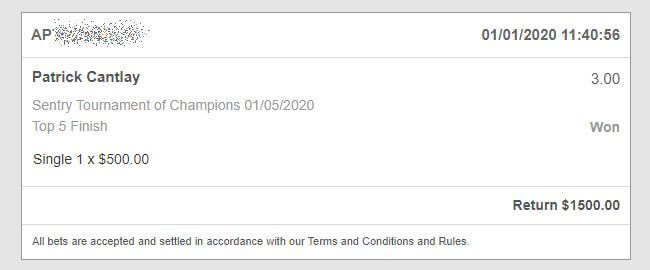 This week let's see what we've got. Quite a few tournaments taking place.
Sony Open 2020 Betting Tips:
That price on Morikawa – holy crap. 18/1? I quite fancied him for this tournament but that's an incredible amount of risk considering he has played just 14 events. No thanks. (Bookies are smarter than me so he will probably win now).
Thomas is tempting but I think he was gassed at the end of the TOC and that will follow up into this week. if I was betting one of the top 3, I'd lean towards Webb Simpson over Thomas or Reed.
Joaquin Niemman: 30/1. 1/4u to win & E/W. A lot of people like Niemman this week and feel he can take this one. He hasn't played in this tournament before but he did have an excellent week last week. He stands out just enough in the metrics for me. I enjoyed that final round especially from Neimann as he just looked in control and playing very well. Rookies have won here before (back in 2013) and he is worth a bet.
Sebastian Munoz: 66/1. 1/4u to win & E/W. Munoz performed well here last year as he had a 10th place finish so he showed he can handle this course. Pops up on the metrics right now, and had a solid Tournament of Champions. Even with the wind, he was able to handle that last round well and I think he can do the business here.
Corey Conners: 40/1. 1/8u to win & E/W. I'm not fully feeling Conners yet but by some of the metrics he could do well here. He has solid long game control and that will help in these winds. His GIR last year was excellent and that's another factor for this tournament.
Of other potential picks, Kevin Kisner came the closest for me. Andrew Putnam too was tempting but I feel his price is just about right.
That's it for me. With the SA Open and the way it covers two courses the first couple of days etc – just feels like a high variable tournament.
I had a look at the Hong Kong Open. Not enough to actually advise tips here but I'm personally placing bets on Marcus Fraser 60/1 and Micah Lauren Shin at 90/1 in case you wish to follow along. I'm only doing 1/8u bets.