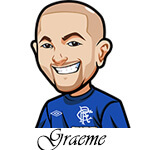 Follow @SBTSportBetting
Hi all,
Welcome to Wednesday. For any new visitors Wednesdays are where I cover golf betting tips every week.
The 2020 calendar year has just begun and we had our first golf tournament of the year last week, with the Sentry Tournament of Champions.
It was a fun event that ended in a playoff. Always love seeing a good playoff. It was an interesting one too as Justin Thomas looked to be hitting a brick wall at the end of the round, however he was able to turn it around and ended up winning the tournament.
I had betting tips for it last week and we made a profit. I called Patrick Cantlay getting in the Top 5, but not actually winning. That was the perfect call as he was 4th, and ended up missing out on the playoff. Very happy with that.
Each winner I also post my betting slips: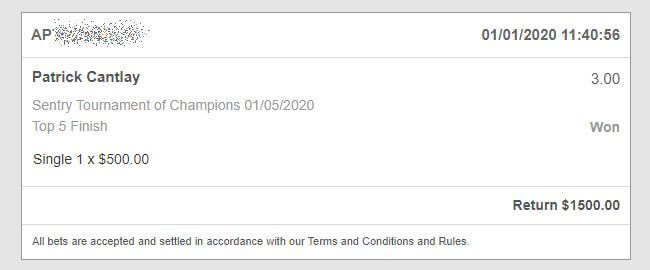 Let's cover this week:
Sony Open 2020 Bets:
So first let me say how I cover these bets. I do 1-4u bets. 4u is $1,000, 1u is $250. Occasionally I may throw in a 0.5u bet if it is a heavy underdog bet.
I will list bets to win & E/W. This is a common European bet. This means to win and Top 5 usually. If your sportsbook doesn't allow betting, split your bet. So if I advise 1u on someone to win & E/W place 0.5u on them to win, 0.5u on Top 5.
Let's get to it:
Joaquin Niemmann to win and Top 5 for 1u. He is +3000 odds. No course form of course however this is a tournament we have seen rookies win before, and it wouldn't surprise me if he contends. He stands out enough in the golf metrics overall plus for this course. Also I feel he had a great final round at the Tournament of Champions and he will be coming in strong which is a good sign.
Sebastian Munoz to win and Top 5 for 1u. Munoz is +6600 odds and I think he has a very good chance here. Personally I'd rate him at +3300 approximately rather than this high. He stands out on the metrics, had an excellent performance last week and looked great despite the winds. I think he has an excellent chance at doing something here.
Corey Conners to win and Top 5 for 0.5u. The problem with Conners and why I am doing a low unit bet is I just find it tough to back him really. Not sure why but he is someone I don't have a lot of confidence in him. Felt that a lot in the past year. Despite that he is a hell of a golfer and can handle the winds. Solid GIR too and well worth a bet here.
I was close to Kevin Kisner and Andrew Putnam. Kisner is one I may regret not backing but Putnam the odds just seem to be about right.
Morikawa at +1800 – what the heck is that? Way too heavy a price on him. I mean I think he is a great player but man he only has 14 events under his belt. Way too high.
If you want to bet one of the three favourites, I'd advise Webb Simpson.
Follow @SBTSportBetting