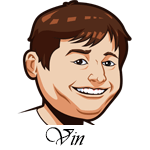 Follow @SBTSportBetting
NFL Week 12 will end with the Tennessee Titans heading to Houston to take on the Texans. This one has a lot of intrigue and could be a heck of a game. Houston is coming into this one having won seven straight games and they are likely to have DeAndre Hopkins and JJ Watt back in the lineup. They seem poised to keep their winning ways going.
Tennessee might have something to say about that though. Their defense has been one of the best in the league this year and even embarrassed the mighty Tom Brady in a game this year. Their head coach, Mike Vrabel, was the Texans defensive co-ordinator last season and you can be sure that he has a game plan for this team while also knowing exactly what is in store for his team.
He'll definitely have help from his cornerback, Logan Ryan. He'll be assigned to DeAndre Hopkins in this one and the physicality on that one should be great to watch. Ryan did a good job in shutting down Hopkins last year and the Titans will hope that he is able to do so again here.
Notable Upcoming Bets:
Houston Texans vs. Tennessee Titans Betting Tips:
This is going to be a smash mouth football game. I am expecting a ton of sacks and turnovers in this one, the defenses could even outscore the offenses in this one. The scoring is going to be hard to come by for both teams and whoever makes things happen on turnovers will probably win this thing.
The Titans have went under in five of their past six games while the Texans total has went under in four of the past six. These teams aren't known for their scoring and that should play here tonight. I think this one is an under as it definitely feels like a 17-13 kind of game.
College Basketball Betting Tips:
Minnesota is 5-0 on the season, but their travel schedule is really jumping out at me. They haven't played a home game in two weeks and are traveling from British Columbia to Boston for this game. This is their "true" road game as well and this could be a hostile environment. I probably like Minnesota a bit better than Boston College on the year, but this travel schedule is brutal and I can see the Golden Gophers coming out sluggish for this one.
NBA Betting Tips:
The Houston Rockets are getting back to where they were last season. They have starting put up big points and while the defense isn't quite there yet, the offense is no longer puzzling. They are scoring 110+ consistently and that makes them a threat on any given night. They'll be without Chris Paul for this one, but James Harden is always up to the task. There is so much going on with this Wizards team right now. So much drama and in-fighting and who knows what. I just don't trust them and their defense has bled points this season. I like the Rockets to beat them handily here.
Follow @SBTSportBetting