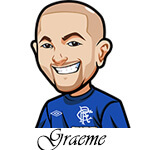 Sooooooooooo close but no cigar last week at the John Deere Classic.
We went into the final round with Cameron Tringale in 1st place and Vaughn Taylor in 5th place, just two strokes behind.
Both were 66/1 shots and it looked like we'd be good for at least an e/w cash for a profitable week. Alas that didn't happen as both of them finished out of the top 5.
Tough one.
This week we have The Open Championship. As always, I will be placing all my bets at Bet365 who are paying out on the Top 8 for the each way bets. So that will be a factor in who I bet and will also increase the quantity of bets.
Molinari of course won it last year in a hell of a tournament. And that was an amazing time as I correctly backed him in that one:

That was a great tournament for the ol bank balance as I also got the e/w cashes on Tiger Woods and Justin Rose.
Let's hope for a similar outing this time out.
Let's get to it:
Open Championship 2019 Betting Tips:
Jon Rahm to win: 14/1. 1/4u. Will this be Rahms first Major victory? He has came so close in previous years however he doesn't have a good history at the British Open. Despite that, he's coming in on form. His win at Lahinch was what put me over the edge in regards to whether he could be a player here or not. On top of that his 3rd position at the US Open has him tasting this one no doubt. There's a lot of red flags, but I do feel Rahm is worth a punt.
Xander Schauffele: 25/1. 1/2u to win & E/W. Xander is an incredible talent and appears to be prepared for this tournament. He's here with his dad this week and that should help with his mental game. He didn't play golf after Pebble Beach and then just got into practising recently, so is coming in well prepared and fresh. Has a great recent majors history and checks a lot of boxes for me. he just doesn't show up enough in the metrics for me to go the full 1u.
Matt Kuchar: 35/1. 1/4u to win & E/W. We all know how Kuchar and Majors go. Close but no cigar many times. he's an excellent player but can never wrap it up. However he plays very well at the British Open regardless of course, and also is having himself a solid year. By the metrics he should be right up there. I mean Kuchar is right there with Rickie Fowler in guys that I groan at when they pop up as a bet. But I feel I gotta back this one.
Bryson DeChambeau 40/1. 1/8u to win & E/W. This is the type of place where Bryson might just surprise and excel. In saying that his majors history is not great. It's one of those picks where I don't like the price but looking at the numbers, I just feel obligated to back it for a small one.
Patrick Cantlay: 28/1. 1/2u to win & E/W. His Majors performance has been excellent, he suits up well in the metrics, his form is excellent and has had a bit of time off. Never know how that will affect a golfer however but he is an excellent contender and the "Top 8" for the e/w cash is enough for me to go from 1/4u to 1/2u. If you bet at a sportsbook where you have to bet "Top 5" only do 1/4u.
Adam Scott: 28/1. 1/4u to win & E/W. I mean he just checks all the boxes. He's been here for a week and played the course to figure it out. He has great Majors performances. A lot of excellent performances at the British Open. Have to get a play on him. He's did his homework here.
Also what would a Major be without a few speculative bets? We'll go with 1/8u to win & E/W on the following unless otherwise stated:
Webb Simpson: 75/1 (1/4u)
Rory Sabbatini: 250/1
Jazz Janewattananond: 300/1
Chez Reavie: 150/1
Tyrell Hatton: 90/1 (1/4u)