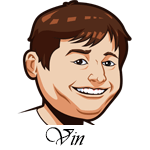 Follow @SBTSportBetting
The Open Championship kicks off tomorrow (or late tonight depending on where you live) and we couldn't be more excited. Golf's oldest tournament is taking place at Carnoustie this year which is considered to be the most dangerous of all The Open courses. The weather is always a major factor and currently there is no wind in the forecast, but in Scotland that can change on a dime and I wouldn't count on it staying that way.
This is an interesting set-up as the hot summer has made for a fast course. A lot of top golfers are probably going to play without a driver in their bag, which is definitely unique when it comes to a tournament. The speed can be really dangerous with the unplayable pot bunkers so avoiding those will be key. Accuracy will be key. Despite the fast fairways, the greens are said to be playing slower. That benefits players who don't putt as well so Jordan Spieth and Tiger Woods, both who have struggled with putting this season, are back in play.
Living in the US, my sleep schedule is going to be messed up over the next couple of days, but it's completely worth it for what I feel is the best tournament in golf.
Notable Upcoming Bets:
The Open Championship Betting Tips:
As always with golf tips, you can bet to win and each way (E/W). This means a top-5 finish. Some sportsbooks list these as two separate plays and at those books I recommend playing both. These are picks for guys that should play well, winning is hard. Especially at Carnoustie.
My plays for the tournament are:
Jordan Spieth 20/1: The defending champion is getting no buzz heading into this one. His putting has been an issue, but as I said above that is thought to be less of an issue the way the course is playing. It's been nearly a month since his last tournament and I think he comes in here fresh with some adjustments made. He's one of the best players in the world and the lack of buzz on him is puzzling. I think he's worth a 1/4 unit play.
Brooks Koepka 22/1: Another guy that isn't get a lot of buzz and I have no idea why. He's coming off the US Open win at a similarly difficult course and he's the kind of player who shows up big for majors. He's a two-time US Open winner and was Tied 6th and tied 10th in his last two The Open events. He's also not played in nearly a month and is coming in fresh. I also really like his history as a European Tour player which makes him more familiar with a links golf course.
Francesco Molinari 30/1: Maybe my favorite player in this tournament. He's one of the hottest golfers in the game right now. Starting with the BMW PGA Championship he has two wins, two second place finishes and one T25. That last one was at the US Open which was a horrible course set-up for just about everyone. Not statistically based, but a lot of people are expecting a European to win this after the US has dominated the majors. Well, Molinari is a great candidate to take that crown. (14/1 as best European is not a bad play either.)
Tommy Fleetwood 22/1: Tommy isn't coming in the best form, but he is getting buzz and it's easy to see why. He had that awesome finish at the US Open and is actually the course record holder at Carnoustie.
Patrick Reed 40/1: Not many golfers having a better season than Reed. He has a second, first and fourth in his last three majors (including his win at The Masters) so it's not hard to imagine him doing well here. He's considered a very creative shot maker which should benefit him here.
Those are my favorite plays. I'll also be doing smaller plays on these three golfers:
Alex Noren 28/1: Coming in hot with a T3 at the BMW PGA Championship and a win at the Open de France. European Tour player with a T6 finish at last year's Open.
Sergio Garcia 28/1: People have been expecting this guy to breakthrough and win The Open for years. This could be the year. He's playing well of late and has his eye on this one.
Tiger Woods 25/1: His game has been up and down this year, but more up than down of late. The putting conditions favor his game and his main struggles this year have been with driver, which is unlikely to be in his bag. This could be interesting.
Follow @SBTSportBetting