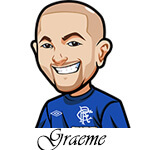 Follow @SBTSportBetting


[Get Exclusive Tips on our Patreon, Ad-Free
]
Hi all,
What an incredible World Cup that was and what a good game to wrap it up. Would have been nice if it was more competitive as the result never seemed in doubt, but it was still a very fun way to end things.
It was also nice to end on a big winning note too. It was a profitable World Cup made all the more profitable thanks to my tip of 5 units on Luka Modric to win the Golden Ball. I loved that one and I'm glad it came in and was well deserved for Modric.
I must admit I'm glad the World Cup is over though – from a betting tips perspective it really took it out of me. Some days as soon as the games were over for that day I was busy crunching stats and looking at everything and rewatching incidents in the match so I could tip 4 separate games. It was a lot of work!
There's a couple of solid resources in particular I wanted to thank. I'm going to be doing a resources page in the future and all these will be on it. While I do a lot of data collecting and analysis myself, these are excellent resources:
Jonathan Wilson: Just an incredible writer and one of those guys who I think is able to see a game in manners that others aren't. Always very eye opening articles.
Michael Cox: Zonal marking was one of my favourite websites back in the day and his tactical analysis is the best in the business.
@11tegen11: Their statistical analysis was very very helpul in regard to pass maps and xGplots.
@Caley_graphics: Their expected goal maps are tremendous and so very helpful. Always puts things in a different light.
Finally the World Cup is over, but the daily soccer tips are not. From here on out I will be providing soccer tips every single day covering leagues all across the world. Some tips will be personal opinion, some will be statistical analysis more than anything else.
I'll also be doing a wide variety of other articles such as articles on creating a betting system, excellent resources for you to use yourself and much more.
I just need a few days to adjust after the World Cup is over and get back into watching club football. Was great watching the Europa League today for example followed by the Betfred Cup and just getting used to that type of football again.
I expect the tips to start on Friday. I am not 100% sure on the format yet but I know that how the tips will work is I'll post them mornings Canadian time for the next day. So I'll post Friday morning tips for Saturday if that makes sense. Means I miss out on late team news but allows everyone around the world to see the tips in plenty of time.
Thanks to everyone who followed the site during the World Cup, who subscribed to the e-mails and most importantly the people that commented on tips! Was great being able to chat with you and looking forward to doing that more in the future.
Back on Friday with tips!
Follow @SBTSportBetting