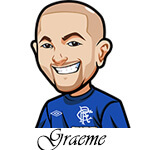 Follow @SBTSportBetting


[Get Exclusive Tips on our Patreon, Ad-Free
]
Hi everyone,
It was a 5-5 week to start the NFL season, for a 0.95u loss with three of the wins being half unit plays.
Generally happy with last week. Wish I had bet more on the Pats/Dolphins over as that one went exactly as predicted. Couple of just bad luck ones. Not happy with the Cowboys play because while I feel they have the talent, I forgot how they can just stink it up on offense.
BTW I didn't mention previous years records as they obviously weren't on the Patreon, but they were all free on SBT. 2020 was a 63-41 season for an unsustainable 65.57% win ratio, and 2021 was 56-43 for a 56.5% win ratio.
Today we've got the Chiefs vs the Chargers. It's funny as in my head I was dreading this game, thinking about how horrible Week 2 Thursday games are. But when I started looking back – it wasn't the case at all.
It's all just because of that Titans vs Jags game a couple of years ago in this spot. Just one of the worst games and I think it's haunted me every since.
Chiefs come into this one off a big 44-21 win over the Cardinals where Mahomes looked elite as always. Chargers got the win over the Raiders with a good performance from Herbert. My one takeaway of that game was there was a play where Herbert could have got a rushing TD and – well for lack of better words – pussed out. Was just interesting seeing that compared to QBs who put their lives on the line sometimes just to gain a few extra yards on a run.
This is a highly anticipated game. However from what we learned from Week 1 – I see no reason not to go with 1u on the Chiefs -4.
Keenan Allen is out tonight and that is a huge loss. Williams is quality but he was not even a factor last week. Chiefs are without Butker and while people joke about kickers in terms of fantasy – that's a loss as well. Dude is reliable and we'll probably see them go for it on 4th a lot more than they usually do. Thing is last year they were the 2nd best at converting on 4th downs so that's not the worst thing. Mahomes is the QB you trust in that spot.
I was reading some things today about how the Chargers defense is pretty much designed to stop a team such as the Chiefs. That sort of thing is easier said than done. We've seen the Chiefs be stopped defensively of course.
So I'm not going to overthink it here. Based on last weeks performances, I like the Chiefs as is. It's their first home game, Allen is out. Chiefs for me.
Follow @SBTSportBetting