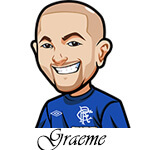 Welcome to week 8 of the NFL!
Last week ended up being our first losing week with a 3-4 in our spreads and over and under bets. That brought the record to 47-28. Had a prop of over 3.5 field goals in the Rams vs Bears game that didn't work out. Hopefully some of you took the under there instead. I wanted to back that but when it comes to a lone football game I just hate watching it and cheering on no points etc.
Tonights game should be a banger. The 1-6 Atlanta Falcons, who find new ways to blow a lead every week, are going up against the 3-4 Carolina Panthers.
Gurley took a lot of heat for that play last week but man how come the Falcons defense escapes? Why the heck is the OC escaping heat for even running that play.
Best part is that in my main fantasy league if he hadn't got that TD I would have lost. Just amazing.
Right let's look at this week:
Falcons vs Panthers Betting Tips:
Falcons are 2 point underdogs and the sportsbooks have the O/U at 51pts. These two played just earlier this month and Panthers won 23-16. Falcons were without Julio then though. We know the Falcons should be good for the points this week with Julio in there.
We know what this Falcons defense is capable of – being a freaking disaster. Teddy should be able to put up the points.
Gurley should likely have a big game here and I think Mike Davis should too. Jones is an interesting one as Panthers are pretty good against WRs but when you throw a key player the ball a lot like Evans they generally put up the numbers.
This is a tough one. The over is appealing but only one Panthers game has went over that total and that was against the Cards.
Rain is likely too it looks like.
Honestly I am going to stay away from bets for this one. It's just too tricky. Instead there is a few props I like that I am going to list:
Gurley over 63.5 Rushing Yards. I see him running the ball a lot in this game.
Matt Ryan Over 25.5 completions. He throws the ball a lot and has the receivers just a case of whether the rain affects it or not.
Robby Anderson Over 5.5 receptions. Teddy likes him.
Where To Bet NFL Player Props
Register an Account.
All betting odds and props will now be viewable under the event listing.
You can deposit to BetOnline via over 20 different options such as credit card.