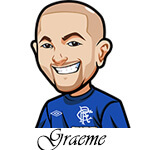 This week in the NFL we have the Packers vs 49ers game on Thursday night.
Any exciting anticipating for that game has gone south fast due to the 49ers with their injuries and their covid.
The line at this one sits at -7.5 in favour of the Packers.
The Packers go in this one off that disappointing loss to the Vikings. They are still 5-2 for the season though and 1st in the NFC North.
The 49ers are bottom in the NFC West with a 4-4 record which of course would be enough to be leading the NFC East.
Ain't football fun?
The 9ers are coming off that tough loss to the Seahawks. They have been a bit of an up and down team this season with the dominating result over the Pats but then the big loss to the Dolphins.
49ers vs Packers Betting Tips:
While they lost last week, it wasn't a Rodgers implosion or anything. He actually played damn well. It was their inability to stop Dalvin Cook. Thank god I wasn't playing against Cook in fantasy this week!
if you're a good QB you usually do well against the 9ers so that bodes well for Rodgers. They are without Kwon too.
I've got a 9ers fan friend who will probably flip his lids when he sees this – but Jimmy G to Mullens isn't really a downgrade. Where the big issue will be is Deebo, Kittle, Alyuk and Bourne all out. That's brutal.
Packers running game isn't too strong. Jones is a potential play but either way I don't see much coming from them there. It will likely be through the air.
With all the injuries and the covid ones – 49ers just don't have a passing game. If they are able to pull it out then so be it.
The Packers line opened at -2.5 and with the injuries and covid I was able to hop on it yesterday for 3u at Packers -4.5. At -7.5? I'd think it would be still a play and advise 1u on that. That's the difference in point spreads and unit sizing.
Where To Bet Tonights Game:
Register an Account.
All betting odds and props will now be viewable under the event listing.
You can deposit to BetOnline via over 20 different options such as credit card.