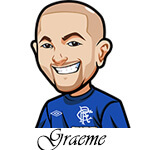 The US Open was quite the incredible event. From brutal winds to big changes from morning to afternoon to big Phil Mickelson out there just messing around. It was a tournament that saw a lot of the big performers go down early.
From a betting perspective it was an interesting one. We had Tony Finau go into the final round in the lead after a bizarre day where he just kept shooting up the leaderboard without even playing. That was something to see.
For me it was all about hoping Fleetwood and DJ didn't win. Fleetwood because I know how he is with the links and I was tempted to bet him last week but due to his performances on the PGA Tour thus far decided against him. The other was DJ who I was VERY tempted to advise a bet on to win last year to at least make it a break even week if no-one else cashed.
As it is Koepka finished in impressive form and what a run it was with Fleetwood on the final round too.
Finau hung in there and got us the cash thankfully. Here's the betting slip from that:

Let's get on with this weeks tips:
Travelers Championships 2018 Betting Tips:
I quite enjoy TPC River Highlands as it's one where there's a lot of adaptable styles that can win here. Makes for an interesting tournament and you have to wonder if guys like Rory and Spieth will be up for this one after the disaster that was the US Open.
Bubba Watson: Always worth a bet on this course where he's won twice and finished in the Top 10 5 times. His forms a bit off at the moment but I'm going to back him for 1u to win & E/W.
Chesson Hadley: He's never performed well here however his stats do match up well and he had a burst of form lately. At his price he's worth a 1/4 unit bet to win & E/W.
Brian Harman: I think just making the cut at the US Open is considered "on form" ha. He's been hit and miss lately but he stands out when I run the stats and he had a solid performance here a couple of years ago. 1/4 unit to win & E/W.
Webb Simpson: Not a fan of his price and I'm not feeling him winning it but do think he can get in with a Top 5 place. I'm going to back him 1/4 unit to win & E/W.
BMW International Championship 2018 Betting Tips:
David Horsey: Previous winner here and performed well quite a few times. Came out of nowhere with a burst of form at the Aussie Open and I'm good to back him for 1/4 unit to win & E/W.
Peter Hanson: A couple of strong performances here in years past and also had that burst of form lately. 1/4 unit to win & E/W.
NW Arkansas Championship 2018 Betting Tips:
Minjee Lee: A 1/4 unit bet to win. Very disappointed in her performance at the Shoprite but she has proven to be a strong bounce back golfer and even won back in May 2015 the Kingmsill after missing the cut the previous tournament.
Lydia Ko: A strong run of form at the moment that I'm loving to see from Lydia. 1/2 unit to win & E/W.
Stacy Lewis: Based on her history here and the price I'm happy with a 1/8 unit to win & E/W.
Angela Stanford: Similar to Stacy she has some solid performances here and with this recent burst of form and the price she's good for 1/8 unit to win & E/W.