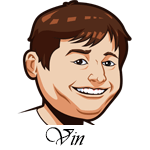 Follow @SBTSportBetting


[Get Exclusive Tips on our Patreon, Ad-Free
]
A very, very frustrating 1-2 night last night.
I seriously can't believe that the Giants bullpen blew it for us again. We had them over the Marlins multiple times last week and each time featured a bullpen meltdown. We had the cover all set with a 4-2 lead heading into the ninth inning. What happened? The Marlins scored three runs in the bottom of the 9th to lose the game and the cover. Reminder: this is one of the three worst hitting teams in baseball. They have a .235/.303/.356 batting line on the year. That's terrible. This shouldn't be happening.
The curse of laying the runs with the home team got to us in the Astros/Rays game. The Rays grabbed an early lead and the Astros were forced to come from behind. They scored two in the ninth to win, but we laid the runs. They could've scored two on the winning hit but since they only needed one, only one scored and the game was over. If the ninth was the eighth? I think they cover easily. That's baseball, runs don't always come when you want them to.
Texas was the team we ended up counting on last night as they won 6-3.
I'd take those games again and I probably should've taken the Yankees game the system recommended as well. These things happen sometime, but over the full season I believe our system works. Let's prove it.
Two games system likes I'll be skipping are Nationals over Orioles (just not enough there on Jefry Rodgriguez for me) and Angels over Diamondbacks (same deal with Felix Pena, Diamondbacks offense is scorching right now). The Giants over Marlins is there again, but I'm not doing it as the moneyline is too high/runline too close.
The system loves a lot of games today so this will be a big one. Prepare to lay some runs.
[text-blocks id="137″ slug="email"]
Seattle Mariners vs. New York Yankees Betting Tips:
This one gives me no joy, but the Yankees are the Yankees. They have absolutely killed lefties this year and Marco Gonzales is just not the type of pitcher who can overcome that. Like most pitchers, he's worse away from home and Yankee Stadium is unkind to all pitchers.
Domingo German has been solid, but I have felt for awhile he's due for some positive regression. He has a 5.23 ERA/4.27 FIP/3.70 xFIP which shows he should have some good luck go his way one of these days. The Mariners offense is good, but not great against righties as the loss of Robinson Cano is most felt there.
The come from behind magic the Mariners usually pull will be harder to do with one of the top bullpens in the game and I just have to go with Yanks today.
Bet Yankees -1.5 (+115) at: [text-blocks id="87″ slug="bet-mlb"]
Atlanta Braves vs. Toronto Blue Jays Betting Tips:
I definitely do not trust Jaime Garcia as a starter. He has a 5.71 ERA/5.06 FIP on the year with over four walks per and a 1.54 HR/9. That's not great. The Braves are one of the top hitting teams against lefties this season with a .797 OPS/116 wRC+ and will enjoy the DH today. I like that offense quite a bit today.
Michael Soroka has been a star through his first four starts with a 2.57 ERA/2.62 FIP. He is a former first rounder with the pedigree for this so I believe his stats. The Jays offense is merely average against righties and I think the Braves offense will hurt Garcia enough to get the Atlanta win here.
Bet Atlanta -112 at:[text-blocks id="87″ slug="bet-mlb"]
Chicago White Sox vs. Cleveland Indians Betting Tips:
The Indians are pretty great against lefties with a .772/109 wRC+. They face Carlos Rodon who has only made two starts this year, but has been pretty lucky with a 3.60 ERA/6.89 FIP and a really low batting average on balls in play. The Indians can punish that and he's definitely in a place where he could struggle.
Mike Clevinger has been great for the Indians this year with a 3.15 ERA/3.36 FIP and the White Sox are below average offense against righties. These are the games that the Indians need to win to contend and I think they'll do exactly that here.
Bet Indians -1.5 (-101) at: [text-blocks id="87″ slug="bet-mlb"]
[text-blocks id="110″ slug="middle-ad"]
Houston Astros vs. Tampa Rays Betting Tips:
I feel sorry for Blake Snell. He's having a great season and last week had to face the Yankees on the road and today he gets the Astros offense on the road. Houston has a .813 OPS/126 wRC+ against lefties, best in baseball, and his offense probably won't do much to help him today against Justin Verlander. It's no fun being a Ray.
This is the system's most loved game of the day. Lay the runs.
Bet Astros -1.5 (-125) at: [text-blocks id="87″ slug="bet-mlb"]
Boston Red Sox vs. Minnesota Twins Betting Tips:
This is the system's second most loved game of the day and I'll also be laying the runs.
This one tells a very similar story. Jose Berrios is having a great year, but he has to face the best offense in baseball against right handed pitchers. Meanwhile, the Twins don't hit lefties very well and Chris Sale just so happens to be one of the very best lefties in all of baseball. This won't be pretty.
Bet Red Sox -1.5 at: [text-blocks id="87″ slug="bet-mlb"]
[text-blocks id="418″ slug="best-sportsbooks"]
Follow @SBTSportBetting