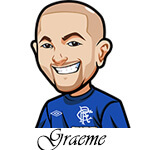 Follow @SBTSportBetting
Well while I didn't have any tips for Sundays games, I did place one big bet on Slovakia to beat Scotland. I would have written it up here but I was under severe time constraints this weekend and my reasoning for it – "Because it's the Scotland thing to do" – wasn't the most sound.
However after our mid week heroics I just knew that we were destined to fail yesterday and unloaded on Slovakia. Despite the fact they pulled off their own heroics I just knew it was the Scotland thing to do and they did us proud!
We've got a ton of UEFA Nations League games taking place on Tuesday. Rather than analyze all 9 of them I've looked through them and picked out a couple of tips I like.
I should also note I've decided when the full version of Football Manager 2021 releases next week to go as Wigan. Expected to get relegated, in administration etc – mental challenge and I can't wait. Counting the days.
UEFA Nations League Bets: November 17, 2020
Croatia vs Portugal:
I'm going to take 3u on Both Teams to Score at 1.80 odds. Yes Portugal have an excellent defensive record with just 2 goals conceded but Croatia have managed to score in evrey single game in the tournament. They also could get relegated if they aren't careful so it has to be a big effort. Portugal really have nothing to play for here but should still be able to score against Croatia easily enough.
Luxembourg vs Azerbaijan:
These two opened the group with Luxembourg getting the 2-1 win. Luxembourgh can still win the group and get promoted to League B while Azerbaijan could get pushed to the relegation play-outs. Luxembourg were a tad fortunate goalscoring wise with an own goal and a penalty in that game but they are a team I'd rate better. I'll go 0.5u on Luxembourg to win at 2.00 odds.
Those are the only two games I see anything worth betting. I'll likely be back Wednesday with some betting tips for a couple of the games taking place.
Follow @SBTSportBetting