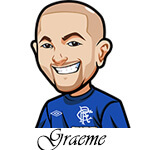 Welcome to the US Open 2017 Betting Tips.
Like any Major golf tournament I'm really looking forward to it however I have to admit I do feel a bit of pressure.
I've tipped exactly two US Opens on this website and I've managed to get them both correct.
Last year I tipped the 4th favourite Dustin Johnson to win the 2016 US Open due to the form he was in and I was able to get that nice win as Dustin duly delivered.
The prior year I tipped the 2nd favourite Jordan Spieth and he duly delivered with a big win. It was a bit risky tipping at 8/1 but I felt he still represented value and he duly delivered.
Here's the betting slips for those two: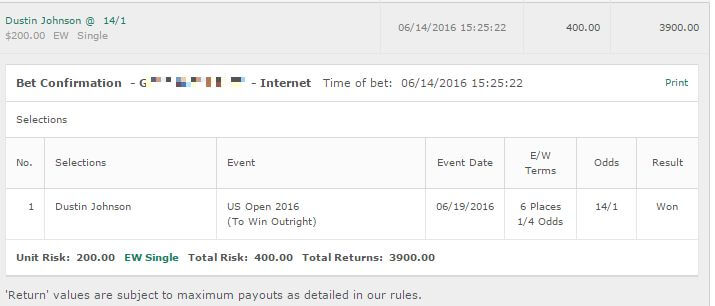 So I'm feeling a bit of pressure as I hope to make it three in a row.
Without further ado let's get to the US Open 2017 Betting Tips:
Where To Bet The US Open:
US Open 2017 Betting Tips:
This is an interesting one because this golf course has never been host to a tournament before. In 2015 we actually won thanks to that as my bet was based on Spieths caddy being familiar with the course. No such help here though.
Here's the bets:
Rickie Fowler: He's coming into this with some bizarre form. He's been hot and cold lately. I mean he wins the Honda Classic following a 4th place at the Phoenix Open and racks up some impressive finishes including 11th at the Masters. Then he doesn't make the cut for the Zurich Classic, struggles at the Players championship, is 2nd place at the Memorial then +4 at the St Jude Classic? Very weird form.
The odds I feel are worth a bet on Fowler however because he has shown he CAN perform this year. He's got some solid Majors results and I'm taking Rickie Fowler to win & E/W for a 1/2 unit.
Jason Day: This is one that actually made me crinkle my nose when I decided to tip him. I've had trouble figuring out Day this season form wise. However he usually performs well at the Majors – specifically the US Open – and he's coming into this off the back of two solid performances. He could have did a lot better at the Memorial if not for that bad start. I dunno – his form is all over the place but I'm going to take him for a half unit to win and E/W. Wish there were better odds but oh well.
Brendan Steele: Nothing notable about him form wise or majors wise however in my analysis of this course, I felt two big factors would be total driving and scrambling. Of all the contenders he really stands out. #1 in scrambling, #9 in driving. He's also had a couple of decent results although nothing mind blowing in his last few Majors. Risky one but I'm going with Steele at a quarter unit to win and E/W.
Paul Casey: In some decent form this season and he's coming in strong with a 6th place and 10th place in his last two Majors. Odds are nice too. Quarter unit to win and E/W.
Charl Schwartzel: Some hot/cold form but his performance last week coupled with his 3rd place at the last Major and the odds on him make me feel it's worth a long shot bet on him to win and E/W for a quarter unit.
Finally I'm placing a quarter unit on George Coetzee. Probably no chance considering his Majors history but I've liked the golf he's playing lately and on this course man who knows. To win and E/W. At 250/1 we'r eprobably just burning money