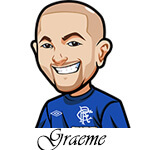 Follow @SBTSportBetting
This week in golf we've got the Wells Fargo Championship.
This tournament has been part of the PGA Tour since 2003, and normally takes place at Quail Hollow. The only year it didn't was in 2017, when it was held at the Eagle Point Golf Club due to Quail being the host of the PGA Championship that year.
We have the one multiple winner here which is Rory McIlroy. he won it in 2010 and 2015 and will be looking to add a third victory here.
He had a bad Masters tournament where he was expected to lead and win, and couldn't even come close.
He's actually my first bet this week. I am placing a small bet on Rory McIlroy to win the Wells Fargo Championship.
Not the riskiest bet in the world – I mean he is the favourite – but it's going to be interesting to see if he can adapt to the changes to the course, and if he can bounce back.
He just couldn't get going at the Masters and you just never know what version of Rory is going to show up. However Quail Hollow is one of those golf courses that a lot of players really love, and looking back over the years Rory seems to really enjoy playing here too. So I am hoping for a bounce back this week from Rory.
I'm also Phil Mickelson to win and Top 5. Phil has never won here but he has came close and was in 2nd place in 2010 behind Rory. This is another course that he loves and he usually performs well at. I also think the changes to the course may benefit him. He's able to read a course well and he should have no problem with the changes and will be able to adapt to them.
That's the only two bets I am personally making.
There is a few potential others based on what I believe will work on this course. I'm not betting them myself but if we go by factors such as driving accuracy and scrambling then Webb Simpson and Lucas Glover should be bets for you.
Scrambling was a big factor last time here.
I'd stay away from Jason Day until we see what is going on with his health. His back still seems to be causing him problems and I don't think we can rely on him at the moment.
I've sworn off Rickie Fowler but this course is ripe for him if you are up for it.
Looking at the underdogs, Zach Johnson is someone who performs well here and may be able to keep it going. He's generally someone you can rely on. I also like Russell Henley who may sneak in and also Brendan Steele.
It's an interesting one this week. Looking forward to it.
Follow @SBTSportBetting