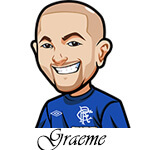 Only the one cash last week in the Open Championship unfortunately, with our long shot bet of Tyrrell Hatton getting the place.
Very lucky to get that one to be honest. I'd initially aimed for only 4 players on my "long shot" list of bets and I narrowed it down to 5. Tyrrell was at the bottom of that list but no matter what I tried I just couldn't justify cutting him off the list.
So I went with 5 and luckily it paid out.
It was just an impeccable performance from Lowry and well deserved. For the record I went back and looked and there's no way with hindsight I would have picked him out. Of the Top 5, the only one that made my shortlist was Tony Finau.
What's notable from that tournament is the resurgence of Molinari. I was happy to see that especially the -5 on the final round and hoping to see more of that in the future from him.
Here's the betting slip for Hatton: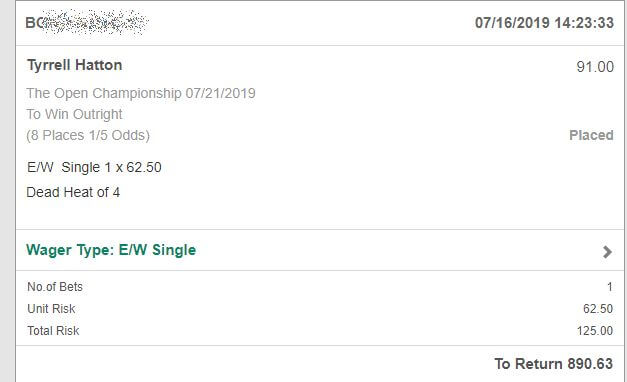 This week the headline event is the WGC FedEx St Jude Invitational.
FedEx St Jude Invitiational Betting Tips:
Rory McIlroy: 10/1. 1/4u to win. When I initially saw the odds for this tournament, I laughed at Rory being priced so high. However when I dived into it – welp we've got to take him. I hate it too as he is generally on my "no bet" list and I am concerned with how he will react after the tournament last week. That was an emotionally crushing one for him.
But when I look at the metrics for this course, he stands out. Of everyone who played last week, he will be more motivated than any of them. On top of that the rare times he gets cut, he often bounces back strong. Cut at the Memorial, won the Canadian Open. Cut at the Players Championship, 2nd at the BMW PGA Championship. Cut at the Valspar, won the Arnold Palmer Invitational. I wouldn't be able to sleep at night without a bet on him here.
Chez Reavie:55/1. 1/4u to win & E/W. Bit concerned that after a couple of sensational performances he has missed two cuts in a row. However his performances weren't bad so I wouldn't say he is slumping or anything like that. He performs well here, and although his GIR will hurt him theoretically here, when he gets it in he gets it in good and he's worth the play.
After those two – I've got quite a few golfers who are probably worth a bet, but I don't feel very good about advising them. Part of that is just personal opinion opposing the metrics, and part of it is just not being a fan of the price. I also don't feel great about leaving them off the list either. So let's go with 1/8u plays.
Tommy Fleetwood: 22/1. 14u to win & E/W. No history on this course but he's playing well, and stands out in the metrics. It's been awhile since he's won but you just get the feeling it's coming.
Hideki Matsuyama: 30/1. 1/8u to win & E/W. Matsuyama is one of those guys I really don't like to bet – just let me down in key spots where I felt he should have been a big contender. But TPC Southwind is the type of course he should dominate at.
Billy Horschel: 60/1. 1/8u to win & E/W.. Just can't argue with his course form here and with the shorter field it may work out well for him.
For the record I had Xander Schauffele on the above list 2 or 3 times but have decided to take him off it. Just not happy with the 20/1 price at most sportsbooks(and I try and list based on the widely available line). If you can get 25/1 it's probably worth a play. Cantlay is similar however he's becoming really odds dependent in terms of bets.
That's all I'm covering this week. I was hoping to dive into more but I've got electricians at my house doing work and apparently they need to shut everything off in my office. Nothing really jumped out at me in the Barracuda anyway.
Actually a quick glance at the LPGA and I advise Sei Young Kim 14/1. 1/2u to win & E/W. Performs well here, and on fire and great when on a hot streak. That's an excellent price for her.