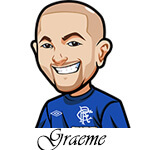 Follow @SBTSportBetting
On this page I am going to go through all teams in the 2018 World Cup, and provide betting tips on who the Top Team Goalscorer will be.
Personally this is one of my favourite bets of the World Cup and I feel it's always full of value. I mean heck look at the odds of Lionel Messi for example. Overwhelming favourite no surprise to be the top team goalscorer for Argentina yet he's 1.72 which is a decent return.
I've always had fond memories of Euro 2012 where I did the research and I found Alan Dzagoev for Russia the most likely to be their highest scorer. I calculated his odds at basically 1.86 yet the bookies had him at 9.00. It was insane and I went on it huge and sure enough – he was joint top goalscorer of the tournament even though they never even got out of the group stage!
In this article I will be covering every team and who I think will be the top team goalscorer. I will provide confidence levels in unit sizing. 1 unit = risky bet. 3 unit = standard bet. 5 unit = very confident.
I give all my reasoning below but here's a quick list of all my picks and the units:
(Odds on this page are correct as of 2018/05/29 1:54:49 PM EST but are subject to change)
Argentina: Lionel Messi @ 1.72 (5u)
Australia: Tim Cahill @ 7.50 (5u)
Belgium: Romelu Lukaku @ 3.00 (5u)
Brazil: Philippe Coutinho @ 9.00 (1u)
Colombia: James Rodriguez @ 4.00 (5u)
Costa Rica: No Goalscorer @ 9.00 (1u)
Croatia: Mario Mandzukic @ 3.50 (3u)
Denmark: Christian Eriksen @ 2.62 (5u)
Egypt: Abdallah El-Said @ 9.00 (3u)
England: Harry Kane @ 2.25 (5u)
France: Antoine Griezmann @ 2.50 (5u)
Germany: Thomas Muller @ 4.50 (5u)
Iceland: Gylfi Sigurdsson @ 4.00 (1u)
Iran: Sardar Azmoun @ 6.50 (3u)
Japan: Keisuke Honda @ 9.00 (1u)
Mexico: Javier Hernandez @ 5.50 (1u)
Morocco: Khalid Boutaib @ 6.50 (3u)
Nigeria: Victor Moses @ 6.00 (1u)
Panama: No Goalscorer @ 5.50 (1u)
Peru: Edison Flores @ 5.50 (1u)
Poland: Kamil Grosicki @ 15.00 (1u)
Portugal: Andre Silva @ 6.00 (1u)
Russia: Alan Dzagoev @ 8.00 (1u)
Saudi Arabia: Mohammed Al-Sahlawai @ 4.33 (3u)
Senegal: M-Baye Niang @ 10.00 (1u)
Serbia: Dusan Tadic @ 6.00 (1u)
South Korea: Koo Ja-Choel @ 11.00 (1u)
Spain: Alarcon Isco @ 5.50 (1u)
Sweden: Marcus Berg @ 3.50 (1u)
Switzerland: Xherdan Shaqiri @ 5.00 (1u)
Tunisia: Wahbi Kazri @ 4.50 (1u)
Uruguay: Edison Cavani @ 2.37 (1u)
Argentina Top Team Goalscorer:
It's always tempting to get tricky and try and avoid betting on the favourite. Try to convince yourself that someone at higher odds is a better choice.
And hey maybe they are but you just can't ignore his track record and I am going with 5 units on Lionel Messi. Top goalscorer in the 2014 World Cup with 4. Everyone else for Argentina scored 1.
In qualification for the 2018 World Cup he was highest scorer again with 7 goals. Next highest Argentinian was at 2 goals.
So don't get fancy – Messi is the way to go.
Australia Top Team Goalscorer:
An interesting one with high odds for everyone. The favourite is pretty much "No Australian Goalscorer". But you'd think they can get at least one goal – I think so anyway. They had much more difficult opponents in 2014 and did the business there with 3 goals, two by Cahill. Tim Cahill is the consistent goalscorer for them and I'm loving his odds. 5u on Tim Cahill.
Belgium Top Team Goalscorer:
Honestly this was one of the easiest of all of them. Romelu Lukau 5u. He's a nice price, he's a consistent goalscorer. Anyone else would just be silly.
Brazil Top Team Goalscorer:
Small bet on Coutinho – 1u. I was impressed with him in qualifying and odds on Neymar are too short. Jesus is tempting but I feel Coutinhos goals in qualification were in the type of matches that are similar to the World Cup.
Colombia Top Team Goalscorer:
Star of the last World Cup, I've got to back James Rodriguez for 5u. He was excellent in qualification and I'd love to see a repeat of his performance.
Costa Rica Top Team Goalscorer:
A very tricky one based on the 2014 World Cup it could be anyone. Even qualification doesn't help matters. Honestly I might be going out on a limb here with the goals spread around but I'm concerned about the age of some of their players. Yeah they were impressive 4 years ago and this makes it a risky one but No Goalscorer is my bet.
Croatia Top Team Goalscorer:
Have to go with the consistency on the big stage. Thing with Croatia is the odds for anyone else are really poor so have to stick with Mandzukic 3u as I think his price is nice.
Denmark Top Team Goalscorer:
Denmark scored 20 goals in 10 games in Group E with Christian Eriksen getting 8 of them and Thomas Delaney 4. The big thing for me is Eriksen showed he is the man when it comes to the goals. He scored when it counted and that's important. He's got the chance to be one of the best Danish players of all time and I'm going to back him to get the goals here. 5 units on Christian Eriksen.
Egypt Top Team Goalscorer:
Egypt stumbled to get here winning CAF Group E over Uganda, Ghana and Congo. Mohamed Salah is their most proficient goalscorer and is the 10/11 favourite however Abdallah Said scored a couple in qualifying too. It's a tricky group for them but with Saudi Arabia in there I think they can at least get a goal. With Salahs health in question, I'm going for a bet of 3 units on Abdallah El-Said.
England Top Team Goalscorer:
18 goals in qualifying, including a jammy as hell 93rd minute goal from Kane against the mighty Scotland. Harry ended up their top scorer with 5 goals although they spread the goals around well. Kane scored the clutch goals and can take penalties. Have to go with 5u on Harry Kane.
France Top Team Goalscorer:
The goals were spread out by France during the qualification stage with Giroud and Griezmann both on 4 and then a few players on two. But I learned from the Euros that in the big tournaments France don't play as open and they don't spread the goals around as much. 5u on Antoine Griezmann who is proven after last year. Giroud is a very tempting price I've got to say but I'll stick with Griezmann.
Germany Top Team Goalscorer:
This one I didn't have to think too much about. Werner is unproven at this level, and with Wagner not participating, it's Mullers to lose. Germany does have quite a few goalscoring options however randomness won't be a factor here – Germany will go far in the World Cup and that's where the best prevail. 5 units on Thomas Muller.
Iceland Top Team Goalscorer:
Very tough one and I could see a lot of goals coming from corners that opens it up to anyone. But I'm going to go with a small bet of 1u on Gylfi Sigurdsson.
Iran Top Team Goalscorer:
They should be better this time around with some better options on the counter attack. That's what I have to back – that they will score at least one goal based on the counter. I'm backing Sardar Azmoun for 3u.
Japan Top Team Goalscorer:
A complete question mark on this team with no competitive games under Nishino and just a team caught in a crossroads in terms of youth vs experience. I'll do 1u on Keisuke Honda.
Mexico Top Team Goalscorer:
A tricky one to call with a lot of good skill up front. Have to think Hirving Lozano gets a chance to prove himself – guy is very talented and could be lethal during this tournament. Honestly it's tough to call who will play up front for sure so I'm going to go with the reliable striker in the squad Javier Hernandez for 1u.
Morroco Top Team Goalscorer:
Morocco played a very tighht system in qualifying and were very organized but this is a lot tougher competition. But I've got to go with 3u on Khalid Boutaib. The guy came outta nowhere and played amazing for his country. he seems to possess that national pride and I love to back that.
Nigeria Top Team Goalscorer:
This is a team who I'll be betting over 2.5 goals in all their games I expect. Great offense but the back is poor. In terms of goalscorers honestly no-one sticks out. Honestly no real bet for me this one. I fell in love with Victor Moses years ago in Football Manager – back when he was an unknown he became my hero. So I'm going with Victor Moses 1u just because of that.
Panama Top Team Goalscorer:
It wouldn't be a World Cup without Panama! The favourite here is "No Goalscorer" and this is a taem who made it here after a 3-4-3 record and just 9 goals in 10 games. Yet Scotland, Holland and Italy aren't in it. Wonderful. I mean not once in qualification did they show they have what it takes to score many goals. If they score a goal so be it but I'll back No Goalscorer for 1u. Price is quite good honestly.
Peru Top Team Goalscorer:
They made it here barely after beating New Zealand. No-one really sticks out. Farfan is the favourite but I don't like that. With Guerrero out that makes things tough for them too. II'd love to go with no scorer but they have a good chance against Australia. I think there is small value on Flores 1u.
Poland Top Team Goalscorer:
I was very impressed with Poland in qualification. It wasn't an easy group but they looked impressive. No surprise Lewandowski is heavy favourite at 4/7 odds. The price sucks however and remember that Lewandowski failed to score at Euro 2016. I really wish there was the option to bet "anyone but Lewandowski" but alas there is not. Kamil Grosicki seems right motivated for this tournament so I'll back Grosicki 1u.
Portugal Top Team Goalscorer:
The fact is if you look at the history of the big tournaments, CR20 does not really step up goalscoring wise. Or at least it's more of a team effort too in terms of goals. Euro 2016 saw him tied with Nani, World Cup 2014 tied with Nani and Varela. He did better at Euro 2012 of course. However I think the price makes it worth 1u on Andre Silva.
Russia Top Team Goalscorer:
Honestly this is a very tight one and I'm not sold on Smolov. A purely personal pick – Alan Dzagoev 1u. He is the one that made me lots of money in Euro 2012 and made this my favourite bet to study for the tournament so that's why I am going with him.
Saudi Arabia Top Team Goalscorer:
No surprise the favourite here is between Al-Sahlawai or no goalscorer ha. However they should come out and actually make a game of it I think and they have a good chance of a goal versus Egypt or even Russia. I'm on Mohammed Al-Sahlawai for 3u.
Serbia Top Team Goalscorer:
Serbia made it here averaging 2 goals per game. Aleksander Mitrovic got 6 of the 20 goals but most of them came at the start of the campaign. This is one of the trickiest teams to call under the new system by Krstajic. Honestly with the potential changes I think Mitrovic is a bit too high and will seek a smaller value play elsewhere. I'm going with 1u on Dusan Tadic.
Senegal Top Team Goalscorer:
With a really good manager I could see Senegal becoming a force in due time. The quality of the team has really grown over the years. Howevre this is a tough team to figure out and pick. Honestly I'm lost with these guys and will go with 1u on M-Baye Niang.
South Korea Top Team Goalscorer:
South Korea playeed a 4-2-3-1 in qualification but have been experimenting with a 3-5-2. Makes the striker situation tough to call. I'd say this is between their star striker Son Heung-min and the midfielder Koo Ja-Cheol. In the 2014 World Cup of course both these guys scored. I'm going to take the bigger price and go for 1u on Koo Ja-Choel.
Spain Top Team Goalscorer:
A much trickier one with 4 of their players scoring 5 goals in qualification. This is a very tight one but for consistency I have to go with Alarcon Isco 1u. Could be one of like 4 or 5 players though.
Sweden Top Team Goalscorer:
The Swedes were such a disappointment in Euro 2016 with just one goal scored and it was an own goal. But they have changed since two years ago and have a much more proficient offense. They know how to handle things post-Zlatan and scored 26 goals in qualification. Marcus Berg was their top scorer during qualifiers although 4 of his goals were in an 8-0 thrashing of Luxembourg. They're in a very tight group and may not qualify however so I'm going with 1u on Marcus Berg as it's a risky one.
Switzerland Top Team Goalscorer:
Switzerland scored 2 goals in qualification and they were all spread around. Lichtsteiner got 3 and then you had Mehmedi, Xhaka, Rodriguez and Zuber all on 2. The playoffs saw just the one goal – a penalty by Rodriguez. His other goal was a penalty too. So can't really count on him. They've got a tricky group stage too. This is a very tricky one and all my data says Mehmedi who isn't even in the line-up. I'm going to go with 1u on Shaqiri as he is a right ball hog and takes most shots himself.
Tunisia Top Team Goalscorer:
Goals were spread around in qualfiication but they will be missing Youssef Msakni which is huge. He was big at creating attacks. No goalscorer is very tempting but I have to think they score against Panama. Based on that I'll back Wahbi Khazri for 1u.
Uruguay Top Team Goalscorer:
Really just a case of pick the person with the best odds. Cavani is slightly better than Suarez so 1u on Edinson Cavani.
Follow @SBTSportBetting