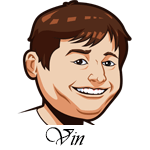 Follow @SBTSportBetting
A 2-1 record yesterday, against just one run short of an undefeated.
We laid the runs in the Seattle at 1-5 and the game ended 2-1. It's kind of amazing to me how often this has been happening lately. Seattle is just about the hottest team in baseball right now and is in control of a Wild Card spot and only one game behind the Astros in the AL West. The Astros are, of course, so very much better with one of the best pitching staffs we've ever seen, but still. Weird things happen in baseball. It'll be fun to see how this team does going forward.
The Nationals over the Orioles was an easy win and I still am wondering why that line was so low. Not that I'm complaining.
Our other win was the Astros over the Mariners and as I said in the opening paragraph, the Astros are amazing. Justin Verlander shut down the best offense in baseball and the Astros rolled. Jose Altuve is starting to heat up and that is bad news for everyone.
[text-blocks id="137″ slug="email"]
Houston Astros vs. New York Yankees Betting Tips:
They are facing CC Sabathia who is due for some regression. He has a 3.55 ERA/4.54 FIP on the year and has just a .250 batting average on balls in play. That will come back on him and the Astros are an awesome team against left handed pitchers with a .773 OPS. Hard not to like them to hit CC here.
While Charlie Morton has been awesome, 2.04 ERA/3.33 FIP on the year, he has the same artificially low BABIP and a silly 90% left on base percentage. He's due for some regression and the Yankees have an .805 OPS against righties. The thing with Morton too is that much of his success this year has been against left handed hitters and righties have done much better against him. Well, the Yankees have Aaron Judge, Giancarlo Stanton and Gary Sanchez who all hit from the right side.
I am taking the over here. These offenses are just too dangerous.
Bet Yankees/Astros Over 9 Runs at: [text-blocks id="87″ slug="bet-mlb"]
Boston Red Sox vs. Toronto Blue Jays Betting Tips:
Hey, you know who else is really good? The Red Sox. They are the top hitting team against right handed pitchers by OPS with an enormous .827 and today face Marco Estrada who is a flyball pitcher with a 5.40 ERA/5.39 FIP. Oh, and they are at home.
Rick Porcello is on the mound with his 3.74 ERA/2.91 FIP on the year. I like him to have a good start here as the Jays are middle of the road against righties and should be without Josh Donaldson today. Just a lot to like about the Red Sox, lay the runs.
Bet Red Sox -1.5 (-110) at: [text-blocks id="87″ slug="bet-mlb"]
Seattle Mariners vs. Texas Rangers Betting Tips:
Gonna stick with the hottest team in baseball here. Felix Hernandez is well past his prime, but he has been a much better pitcher at home than on the road. At home he has a 4.58 FIP while on the road that number is 5.55 with his strikeouts being higher at home too. He gets a significant break today facing the Rangers who have just a .677 OPS against righties on the season. He's not a great FanDuel pitcher or anything, but I like him for our purposes today.
Austin Bibens-Dirkx has made one start this year and allowed four earned runs. He pitched better than that, but he is what he is at this point. Projection systems all point to him having an ERA in the high 5s and today should be a tough one for him. I like the Mariners to handle him well and will be laying the runs here.
Bet Mariners -1.5 (+120) at: [text-blocks id="87″ slug="bet-mlb"]
[text-blocks id="110″ slug="middle-ad"]
Follow @SBTSportBetting