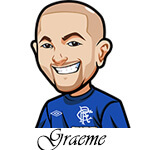 Follow @SBTSportBetting


[Get Exclusive Tips on our Patreon, Ad-Free
]
Predicting who will actually win the World Cup is always tough – even moreso to accurately predict brackets etc. There's always upsets along the way and really – 90 minutes isn't a long enough time for the better side to always prevail.
However when it comes to betting on the World Cup, what I like to do is make as big an +EV bet as possible that I'm also confident about. +EV means positive expected value as in you expect a positive return from your bet.
For example the true odds of a coin flip are 50/50. In betting terms, that's 2.00 odds. So if you're betting a coin flip at 1.90 odds, you're getting a bad bet and it's negative EV. If you're betting it and getting 2.10 odds then that's positive EV.
So it's the same with the World Cup or any futures. You want to make an +EV bet – one where you feel the true odds of a team winning the World Cup are lower than what the sportsbook is offering. Then win or lose you know you made the right bet.
(Odds on this page are correct as of 2018/06/05 2:19:19 PM EST but are subject to change)
So the first thing I like to do is process of elimination. I go through the groups and try and come up with the 16 teams who will qualify. There's no exact science to it but roughly, this will be the sweet sixteen:
Russia vs Portugal
France vs Croatia
Brazil vs Sweden
Belgium vs Poland
Spain vs Uruguay
Argentina vs Denmark
Germany vs Switzerland
Colombia vs England
So that gives us 16 teams to pick from. However I think we can narrow that down. Without sounding too confident, I believe the majority of those results are "obvious". You replay them enough times, you get these match-ups:
Portugal vs France
Brazil vs Belgium
Spain vs Argentina
Germany vs England
So at this point we've got 8 potental contenders to win the World Cup. The odds of those 8 are as follows:
Brazil: 5.00
Germany: 5.50
Spain: 7.00
France: 7.50
Argentina: 10.00
Belgium: 12.00
England: 17.00
Portugal: 26.00
Amusingly, the 8 teams I've predicted to be in the final 8 are the 8 favourites. So that's a good sign. Now in this sense, if we get 9.00 odds then it's a 0EV bet meaning it'd be like getting 2.00 on a coin flip.
Now you could quite handily go and bet Argentina or Portugal knowing you're theoretically getting a +EV bet. However knowing the strengths of the teams, that's not really the case.
There are teams we can eliminate based on theorized team strength and the overall bracket setup. I like Brazil to beat Belgium for example, Germany to beat England, and France to beat Portugal. Regardless of how the matchups play out I feel those qualifications/eliminations occur regardless.
That would leave me with: Brazil, Germany, Spain, Argentina and France. 5 teams. However I think the story is already set with Argentina and can eliminate them. They rely too much on Messi and that hasn't worked out for them in the past.
So that leaves 4 – and any 4 of them is the correct bet. Whether it's Brazil, Germany, Spain or France – if you bet one of them, you're making the right move. And again all 4 happen to be the favourites.
So at this point you have to weigh up the pros and cons for each team. A quick look at each team:
Brazil: Despite their quality going back decades and decades, 1958 was the last time they won the World Cup in Europe. It's tough to say if this is their best team yet as they have fielded some incredible teams over the years. The big one is Tite in charge. I feel that is where they have been lacking. They were incredible throughout the qualification and everything seems good in the Brazil Camp.
France: They've had their issues in the past with self destructing and there's quite a few tactical questions going into this. They are a team literally bursting with talent but I wasn't super impressed with them in qualification.
Germany: An absolute machine in qualification. Less then half the players who lifted the 2014 World Cup are here but that doesn't seem to matter. They've got so much depth as well to them and are just such a machine.
Spain: Another team with issues in the past however Lopetegui has really rejuvenated them. And they did excellent in qualification.
It's very tough for me but at the end of the day, I'm personally going to predict Brazil to win the World Cup. Yes not exactly the most risky bet in the world considering they're the favourites. However I didn't look at the odds prior to writing this article and only looked at them after to add them in so that didn't taint my predictions.
I just think Tite in charge and rewatching them and how they played – this is the complete package and no-one is going to stop them.
Follow @SBTSportBetting