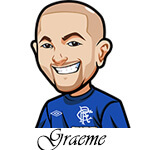 Follow @SBTSportBetting


[Get Exclusive Tips on our Patreon, Ad-Free
]
Well it's time to start covering the World Cup.
I don't really feel this is a place for me to get on a sandbox or anything about the World Cup, especially because I'll be writing about it and hopefully profiting from it. So I'll just say that the whole thing is gross, but I'll hopefully be putting those feelings aside to enjoy this event, and then will be donating to various human rights charities after the fact.
Here is one good article on the topic. In summary, it's going to happen but we can't forget why it is happening or the people whose lives have been sacrificed for this event to occur.
So my plan is to have betting tips for every World Cup game. I love these tournaments and I live and breathe them. Having betting tips for every game isn't exactly an +EV move but it's something that really gets me into the tournament more. I also find that analyzing early games with bets on then will pay off later.
So my betting tips will have a confidence system. A 1-3 confidence system. 1 (0.5u) means it's literally just a bet for the sake of making a bet. 2 (1u) means it is still a bet for the sake of making a bet, but it's a bet that I feel has a good chance of winning and will be my most common bet. 3 (2u) means it's one that if I were just picking and choosing what to bet based on having an edge – this is one that I think will win.
Let's get going:
Qatar vs Ecuador Betting Tips:
Ecuador come in as favourites here at 2.49 odds. The draw is next favourite at 3.20 with the hosts, Qatar, at 3.26.
Ecuador were pretty decent in qualification. 27 goals scored, 19 conceded in 18 games. Pounded Colombia 6-1. Copa America they weren't as impressive though.
Qatar it's tough to really gauge them. I mean one hand they haven't really looked impressive in friendlies but on the other hand, World Cup Hosts means something. Always seems to spur a team on. They also did manage to win the Asian Cup and looked solid in doing so.
I expect they will start with a 3-5-2 with Ali and Afif up front even though Afif started on the bench against Albania.
I'm going to go with 1u on Qatar – Draw No Bet at 2.10.
Teams always seem to start conservative in the first games. Ecuador in particular with the way they have been defensively, I can see stifling this game. If one team takes the lead, they generally like to park the bus which allows the other team to control it more and increase the chances of equalizing.
I would prefer "Qatar or Draw" but the odds don't make it worth it. Qatar will be a lot better prepared for Ecuador than vice versa, and I am sure they have been working a lot more together. Basically they will be more of a unit.
They are also a fast moving team and I don't know if Ecuador will be prepared for them.
I guess we're cheering on freaking Qatar on Sunday.
Follow @SBTSportBetting