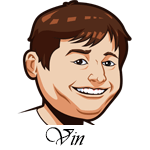 Follow @SBTSportBetting


[Get Exclusive Tips on our Patreon, Ad-Free
]
NBA betting tips for November 18th, 2022.
2-1 last night.
A real heartbreaker with the one loss there. Nic Claxton had 11 in this one early, but couldn't see the court late and his points total stayed under 11.5.
I really wanted that 3-0 after the past week, but a winning night is a winning night. Let's keep it going.
Seven tips for tonight on Patreon, five are below.
We are now posting some of our betting tips exclusively on
Patreon
, as well as posting exclusive betting tips there. Here is what you get by supporting us on Patreon:
Exclusive betting tips. Not just the tips omitted from these posts, but Graeme will have bets on every World Cup game.
Ad-free experience.
Priority e-mails; receive the e-mails as soon as the tips are posted rather than hours later.
Feeling good about supporting two guys who have worked their butts off writing sports tips on here for free for over 10 years. We promise only to spend it on beer and wings at our local sports bars!
Bet Horse Racing - +£21,565.98 profit on £25/pt staking. Click for more details.
(Advertisement but we have tested it out and have been quite impressed with it)
Milwaukee Bucks at Philadelphia 76ers Betting Tips:
The Bucks continue to deal with their injury woes, but they should see Holiday and Allen back on the court tonight. That said, the big issue here is Giannis. He's not on the injury report, but he's clearly not been himself over the past couple weeks or so.
He missed some time and is not all the way back. Last game he shot 6/18 which is extremely not Giannis numbers. Over the years he's usually brought it for this game, but the injuries may stop that.
A big part of Giannis going off is because of Embiid. These two have a real rivalry and always seem to show out. Embiid is on a career great run right now with 42 and 59 points in his last two games. That last game was a true all-timer as he added 11 rebounds, 8 assists, and 7 blocks. Monster.
I really think Embiid is going to keep that same energy coming into this one. The match-up is tough with Lopez guarding him, but he's just on another level right now. The Bucks have dominated this match-up over the past for few seasons, but for his career Embiid averages 32.8 against the Bucks in wins. The last one in 2022 saw him put up 42.
Also going to go UNDER on Giannis' points prop. He hasn't been over 29 since early this month and that shot clearly isn't there right now. A risk as this guy is built to prove us wrong, but you have to go with what you see sometimes.
Giannis Antetokounmpo Under 29.5 Points
Joel Embiid Over 29.5 Points


Oklahoma City Thunder at Memphis Grizzlies Betting Tips:


Denver Nuggets at Dallas Mavericks Betting Tips:
The Mavericks are a team that I really like to pick my spots with. Luka might be the best player in the league, but he has the biggest load on his shoulders of anyone so you need to make sure he's fresh and it's not a match-up that will punish him.
The Nuggets shouldn't be punishing him today. They will be without Murray, Jokic, and possibly Aaron Gordon tonight. Bones Hyland is only 6'2″, he's not stopping Jokic. Michael Porter Jr. can't defend anyone much less the best player in the NBA.
The Mavs are coming off a real letdown loss without Luka against the Rockets at home and now enter a tough part of their schedule. They need to get this win against a shorthanded Nuggets team and I think they will. That rest is key.
I don't hate Luka's 49.5 Points/Rebounds/Assists prop, but that is just so high it gives me pause. His season averages are 34.4/8.8/7.8.
Nine is a lot of points, but I do like the first quarter here. The Mavericks are +2.7 on average in first quarters this season with home court and a well-rested Luka. He has averaged 12.5 points, 3.6 assists and 2.6 rebounds in 13 games in the first quarter this season.
Mavericks -3 First Quarter
Bet Horse Racing - +£21,565.98 profit on £25/pt staking. Click for more details.
(Advertisement but we have tested it out and have been quite impressed with it)
Boston Celtics at New Orleans Pelicans Betting Tips:


Detroit Pistons at Los Angeles Lakers Betting Tips:
This is the one team where I truly believe the Lakers won't blow the spot. Why? Because they are the only team that shoots nearly as poorly from three. The Lakers are DEAD LAST in three point percentage at 30.7% while the Pistons are right behind them at 29th, 32%.
The Pistons offense is right there with the Lakers in the bottom four of the NBA, but the big difference is on the defensive end. The Lakers' Defensive Rating is way better at 112.5 compared to the Pistons' 117.2, second worst in the NBA. Detroit is also on a back-to-back while the Lakers have had four days off since their last game.
LeBron should play and Anthony Davis should play. This should be a Lakers win and convince some people that they should keep pushing to contend. They shouldn't, but people will think that and they don't really have another choice.
Lakers -7
Bet Horse Racing - +£21,565.98 profit on £25/pt staking. Click for more details.
(Advertisement but we have tested it out and have been quite impressed with it)
Follow @SBTSportBetting