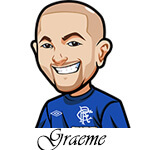 Follow @SBTSportBetting


[Get Exclusive Tips on our Patreon, Ad-Free
]
What an incredible day of World Cup action.
There's something about penalties that are just the worst and the best. I feel so bad for people who aren't English that miss penalties – it must be so heartbreaking and something many of us will never experience. But man – the excitement of penalties is just unmatched.
1-1 for a profit thanks to the Patreon-only 2.50 winning bet on over 2.5 goals in Netherlands vs Argentina.
Had Croatia/Brazil 2nd half to have most goals and that didn't pan out. Neymars shot was inches away from getting through the keepers legs to make that a win there. It is what it is.
Best thing is my bet on Croatia to win the World Cup is still alive. It's only a $50 bet, but after the Morocco game (which is where I placed the bet – at half time), Bet365 were only offering me a lousy $2 on the cash out. Now it's up to $170. No thank you lads – I'm riding this all the way.
Won with the over 2.5 in Holland vs Argentina and think we got a bit lucky with that one! Haven't had too many bets win by luck this World Cup though so I'll take it. Was never a pen I thought, but it helped open up the game. And how good was that free kick goal? Wish we would see more of that.
Also I had a delightful time being able to go out to a bar for the first time since gallbladder surgery a few weeks ago, to watch the game. Except when I rushed my pint at the end of 90 minutes thinking the game was over, then had to order another one for ET + Penalties!
Let's look at Saturdays games:
Portugal vs Morocco:
Portugal come in as the biggest favourites of the day, at around 1.70 betting odds.
They had an interesting group stage. Quite the open ended second half against Ghana, a 2-0 victory over dreary Uruguay, then with rotation lost to South Korea. However they blew everyone away with an incredible performance against Switzerland.
I feel like Ronaldo being benched and Ramos coming in had to affect the mentality of that Portugal team, but for the better. They probably felt they had something to prove.
Morocco meanwhile continued their run of not conceding any goals from an opposing player, and have shut out every eam in the World Cup (Canada goal was an own goal). They shut out Spain which was something I wasn't too surprised at.
However right now I feel like a manager whose team concedes a goal in injury time in the first half and has to rip up all his notes. As that Portugal game against Switzerland was a complete contrast to the way they have normally been playing, and now I've no idea how they are going to show up here!
The nice thing is I don't think I can say the same about Morocco!
This is a very tough game to provide a betting tip for. For example – no idea if Ronaldo starts or not so that is a factor. Then can Portugal break Morocco down? I also feel Portugal are weak defending the counter, so can Morocco take advantage?
Bookies expect a low scoring game with under 2.5 at 1.66 odds. Portugal I think need to continue that attacking style that worked against the Swiss – just maybe be a bit more wary of counters.
Portugal can take this if they play aggressively. Spain did not do that like they should have. Portugal has the technical quality to be able to do it, and if they are given the ball a lot, it can work out for them. Actually if Morocco defend deep like they did against Spain that could be great for Ronaldo as well – as he's obviously lost the pace, but slow buildup play with him around the box is a good thing.
I'd like to do a higher odds play involving BTTS or something but I think that is reliant on Morocco being able to get a counter attacking goal. Not sure if they can get something via a possession build-up play.
and I just feel this is one game too much for Morocco. They've parked the bus and managed to make it this far. But I feel the better team wins out, and wins out in 90.
Portugal to win at 1.72
France vs England:
France are slight favourites here against England.
France had a solid victory over Poland to get here. They are one of those teams who you can look at over the course of most of their games and be like "Yep they can win the World Cup".
England on the other hand? I mean their results have been impressive. Here's where I see their problem is: they only play like a real team, like a contender, after they score a goal.
Prior to them scoring a goal? They almost look clueless. Like they have no idea how to score a goal, and are just hoping for the best. No idea how to build up an attack etc.
Then they get that one goal and they're a whole different team. Saw it against Iran, Wales and Senegal.
When you look at the level of opposition played – France have probably faced the toughest teams in Denmark and Poland. Englands toughest opposition was USA and they drew that one in a close one. Not counting the France/Tunisia game in that.
Where England generally succeed from is their counterpress recovery. They like to press high, and what's important is when they win the ball back, they turn it into attack fast.
I expect France will let England control possession here. England like to use the wings to attack but France I expect will do the 4-4-2 which will hurt that.
As England push up though, France can take advantage. Senegal weren't able to but France have the quality to do so. England like their fullbacks to push up almost like wingbacks. Mbappe and Dembele should have no problem taking advantage of that.
If England change that and Shaw and Walker don't push up as much? I think that hurts them a lot.
I feel like this one has the potential to be a competitive game, and BTTS at 1.95 seems good. Buuut I'm just concerned about the step up in opposition for the English. And like I said – when they go a goal ahead? They play some beautiful football. But prior to that? Not so much.
If England can play the way they do when they go 1-0 up? Whole different game. If England are able to score early here? Massive for them, and if that's the case I'd suggest live betting England to score the next.
I'm going with a play only on our Patreon sorry! – the people who signed up for the Patreon only tip for Netherlands vs Argentina picked up a 2.50 winning bet!. A great time to sign up because you won't pay until the end of December so you get the entire month for free. Not happy? Cancel before December 31st and you won't have paid a penny! A month of risk-free betting analysis including NBA, NFL, College Football, World Cup and more! Click here.
Follow @SBTSportBetting