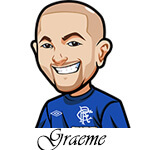 Follow @SBTSportBetting


[Get Exclusive Tips on our Patreon, Ad-Free
]
The quarter-finals of the World Cup kick off on Friday, with Croatia vs Brazil and the Netherlands vs Argentina.
Then on Saturday, we'e got Morocco vs Portugal and England vs France.
Did anyone else feel just completely lost without it? Yesterday I found myself sitting on my couch at 10am feeling confused. Then I realize it's because that is when I usually go in to watch the 10am games kicking off.
So pumped to get it back. In even better news, after about a month of not being able to drink or go out due to my gallbladder surgery – I'm meeting up with a mate for the Netherlands vs Argentina game at a bar. Can't bloody wait. Warned him he better be working his core this week as dude is going to have to carry me home.
Right let's get on with the two games:
Croatia vs Brazil Betting Tips:
The Croatia vs Japan came just kind of backed up what I've felt all tournament. Croatia are a damn good team who just lack a goalscorer. They had a couple of golden chances in that game and if they had a goalscorer, I don't think they would have needed extra time.
Now they play Brazil who absolutely destroyed South Korea. Although Brazil did concede and I have said – that defense feels a bit suspect to me.
The big question here is whether Croatia change their gameplan for this match. This is the best opposition they have played. Will we see similar to the last what 20 minutes of the Belgium game, where it's just them conceding chance after chance? Will they try and channel fellow Group F nation Morocco, and defend like fiends?
And what about Brazil? That type of performance we saw against South Korea. Is that going to be the norm for them going forward? Or was that just against weaker opposition, and they resort back to the type of tactics we saw against the Swss and Serbia?
A lot of questions.
Croatia build a lot of attacks quite fast, and look to get the ball to their main offensive players. Their defensive duo Lovren and Gvardiol play a part in that. But that can leave them open to the counter, and that's not something you want against Brazil. Those two do have fantastic passing though and can turn nothing into an attack in an instant.
Croatia are open to making mistakes, and Belgium really should have scored against them. Multiple times. Brazil are a lot more clinical and can make them pay.
I do think Brazil don't have the right balance in midfield currently, and Croatia will win the battle there. I'm honestly mostly concerned about that counter attack. And that makes me wonder if Croatia sits back.
Croatia also like to create a lot from wide areas. That's where I've been screaming for a finisher, or a target man. And Brazil have shown that attacks from the wide channels are where they are weak.
I'm tempted by BTTS but I can't trust Croatia to get the goal. I CAN trust them to create chances but who knows if that will be enough.
I'm going with 2nd half to have most goals at 1.95.
This isn't just because of the way Brazil played against Serbia and Switzerland. It's also due to fitness levels, age etc. I feel Croatia will start the game well, but can peter out as time goes on. Look at the way Belgium sliced them up again and again.
And of course if we get a similar performance as the two early Brazil games – well we know how likely it is we have to wait until the 2nd half to see the action.
Netherlands vs Argentina:
Michael Cox, who is probably my favourite analyst ever when it comes to tactics, wrote a really interesting article about The Netherlands tactics at the World Cup over on The Athletic.
The Netherlands tactics this year have really seemed weird to me so it was neat to see his thinking in regard to things.
I actually really liked the tactics of Van Gaal in the USA game. The USA are all about high pressure and high tempo, and so the Dutch absolutely crushed the tempo of the game.
The USA did figure it out though which was nice to see. All they had to do was string a quick two passes vertically together, and it gave them that momentum to get an attack going.
The last game really showcased the Netherlands counter attack ability though, and now they'll come into this one with confidence. Dumfries especially – man he is going to come into this game buzzing after such a great performance.
Argentina defeated Australia to get here. Offensive wise, Argentina create the chances but can't convert as much as they want to, while the Netherlands are relying pretty well on clinical finishing.
Honestly, I went into this one looking to tip something like BTTS. But the more I dive into things, the more I think the Netherlands can actually take this one.
I haven't been impressed with them at all up until the USA game, but just knowing the confidence they have, how they counter, and man Argentina are shaky at times – I think the Dutch can move on.
Depay will be a big factor in theory, but Argentina were able to show how they can stifle a player like that with how they dealt with Lewandowski. Difference is, Netherlands hae more quality and more skillful players all oevr the pitch than Poland.
This is actually a pretty fascinating game actually. Argentina have I believe the lowest xGA in the entire tournament, but while the Netherlands don't create many chances, their conversion is very good so they should be able to take advantage of the few chances they get.
I'm going to go with a play only on our Patreon – the people who signed up for the Patreon only tip for Portugal vs Switzerland picked up a 1.83 winning bet!. A great time to sign up because you won't pay until the end of December so you get the entire month for free. Not happy? Cancel before December 31st and you won't have paid a penny! A month of risk-free betting analysis including NBA, NFL, College Football, World Cup and more! Click here..
Follow @SBTSportBetting