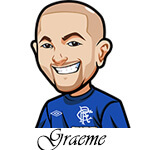 Follow @SBTSportBetting


[Get Exclusive Tips on our Patreon, Ad-Free
]
It was another exciting day in the World Cup. That Serbia vs Switzerland game was an absolute belter.
And how about those South Koreans? Incredible victory, and I gotta admit I'm glad Uruguay went out. I just have a thing about teams playing negative football and after their first two games, I did not want them to go through.
Anther Top Team Scorer win with Mohammed Kudus! 7.00 odds for that one.
(Warning: personal betting story ahead feel free to skip)
That Serbia vs Switzerland game was intense as all hell for me. Long story short, I have a bet with a friend where we have to bet on each game, and the loser has to buy the winner a random football shirt from a mystery football short box site. We are both very competitive so it was a very heated and fun contest.
We reset after the group stage with a winner declared then go round 2 for the knockouts. He was in the lead and so had to make his 2 bets beforehand. Then I did the calculations and if he won both his bets, I needed a 3.75 or above win to win the contest.
I went with Serbia -1.5 card handicap in that game. At HT it was Switzerland up 2-0 in yellows. Not good. Serbia tied it up 2-2 at the 56th minute mark. It was then an agonizing stretch of no cards (except to Rajkovic which didn't count as he wasn't on the pitch).
82nd minute, Serbia get two rapid fire yellows and I am in the lead. It's looking like I have it locked and loaded. I'm already celebrating. Then in the 99th minute, Schar gives up a yellow for Switzerland and I'm scuppered.
Then on a Switzerland counter, Lukic fouls but the ref plays advantage and I'm raging. My mate is video calling me and celebrating and everything etc. I was raging.
Then 10 mins later I glance at my Bet365 account and see the bet is marked as a win. What? So I go look and sure enough – Lukic actually got the yellow for that, so I ended up winning.
It was pretty much the greatest moment of my life. It was like VAR disallowing a goal that results in you winning a bet – but the VAR only kicks in 10 minutes after the game is over.
Anyway sorry for yammering on about that I'm just stupidly psyched at winning that, and I know my mate is reading so wanted to rub it in that bit more.
Let's look at the games on Saturday:
Netherlands vs USA Betting Tips:
So the Netherlands have been very disappointing I've found over three games. It feels mental typing that considering they have won one game and drew another, and are one of only 5 teams unbeaten. But that's the way I've felt.
They were good enough against Senegal I thought. No real issues there – if they had a goalscorer they would have won that one easier. They were absolutely horrific against Ecuador. And I really wasn't that impressed with them against Qatar. Felt that should have been a statement game, and that Qatar actually exposed them quite a bit.
Then there's the USA. Horrific second half against Wales. Solid performance against England. Deserved to win against Iran but their second half performance was weak.
I really want USA to win. Funny as I wanted them out before the tournament began, but I just love the football they are playing. It is exciting stuff.
But I do believe the Netherlands have a gear(maybe a few) that they haven't hit yet.
I'm going with 1u on Over 2.5 Goals at 2.37 odds in this game. I know it's the knockout rounds and we have to be wary of teams playing cautious. But from what we have seen from the USA, they will continue to play the way they do. Netherlands won't be used to it. But Netherlands also generally have the quality finishing, especially with Memphis likely to start.
USA should make it an open game and as long as they keep that aggressive game going, I think this one will go over.
Argentina vs Australia Betting Tips:
Australia man – their ability to randomly get goals in every game is amazing. They come in having finished 2nd in Group D with two wins. Unreal. I didn't expect much of them this tournament. And I mean tbf, their xG for the three games is 0.4, 0,5 and 0.4. It's truly unreal.
Argentina – well we finally saw what they are made of. It took two games of playing horrific but they were able to do the business against Poland and in the fashion we expected.
You gotta think Australia kind of go for it here right? Sitting back not really in their nature. But then the France game, we saw the French controll possesion etc and Australia rarely got a look in.
Looking back at the Denmark game, one big factor for the Aussies was how quickly they transitioned the ball.They focused more on pressing around hte middle of the field. Their counter attacking works and they're going to get a lot of opportunities here I think.
Australia played an interesting game against Denmark, forcing the ball out wide where they were able to take advantage a lot there and regain possession. Will be interesting to see if they attempt it here.
Anyway I'm going with 1u on Both Teams to Score at 2.75. Argentina have shown weakness at the counter, and I'm not convinced on their defense as a whole. Plus Australia just seem to be amazing at figuring out ways to get goals.
I just have to hope Australia focus on the counter, and don't abandon it to defend deep like Poland did as that is just asking for trouble. If you think they go that route, then the second half to have more goals is probably the better bet.
Follow @SBTSportBetting