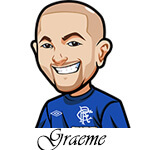 Follow @SBTSportBetting


[Get Exclusive Tips on our Patreon, Ad-Free
]
We have one more day and then we are done the second round of games. After 28 games, I currently have a 13-15 record. I'd prefer to be in the positive of course, but considering I'm betting every game and I've been on the wrong side of luck (only good luck win was that Netherlands -1.5), I'm not too upset.
If you flat bet 1u on every play it'd be -3.59u. Can change on a whim, and hopefully today is that day.
It was a 1-3 day on Sunday. Won with Croatia/Canada over and it was good to see that performance from Croatia. They are kind of my sleeper pick for this tournament and the only team I bet to win the WC and that one will give them confidence.
Lost with my max confidence bet in Belgium. It is what it is. Felt the risk/reward was worth it there. Hopefully Belgium don't squeak through to the next round as they certainly don't deserve it.
Lost with Japan and that one I am kind of looking back and questioning honestly. They probably were unfortunate to not get a goal as it really seemed like they would – but there was also a real lack of creativity from them as well. In hindsight, a bet on the unders would have made more sense there.
Had Spain to win and that one was a banger. Alas, Spain couldn't hang in there. A draw seemed the fair result to me.
Brazil vs Switzerland:
Both teams come in with wins. Brazil in a fairly dominant win over Serbia. Switzerland in a bit of a tighter one against Cameroon. Switzerland did have an xG of 1.3 to 0.8 in that one though.
After some experimentation with tactics, Switzerland reverted back to their 4-2-3-1 for that game. We saw some good changes at half time for the Swiss which helped them create more chances and look comfortable while doing so.
It was a solid team performance which we have come to expect from the Swiss.
Serbia had an aggressive defensive system that Brazil were able to overcome. It took some time but Brazil just kept picking away. It should be noted that Brazil are solid defensively as well. Serbia are actually a good attacking team and they couldn't get anything going against Brazil. The high press rattled Serbia and it forced them to play long balls which they weren't comfortable with.
We did of course see these two teams match up n 2018 and they drew 1-1. Brazil look like a better opponent though. Cameroon were also able to expose Switzerland at times with their quickness, and I can see Brazil doing similar.
1u on Brazil -1.5 at 2.30
Cameroon vs Serbia:
This should be a good game with both teams having lost, and going to go for it here. Serbia like to play a high attacking game, and Cameroon as we saw against Switzerland like to counter. This should see some good action.
I feel like this game has the potential for goals. My one concern is Cameroon and whether they have the confidence up front to get those goals in. I felt that's where they were lacking against Swiitzerland. Despite nothing, Chupo-Moting is still an on-form player.
I'm going with 1u on Over 2.5 at 2.10 odds.
Portugal vs Uruguay:
I pick one game each day to go on the treadmill during, to get my daily 10k steps in. I always pick a game I think will be the most exciting to watch, to make the time go faster.
This certainly won't be that game!
Portugal come in after that tight 3-2 win over Ghana while Uruguay come in after a horrific game against South Korea.
To their credit, Portugal had some real clinical finishing in that game.
I've gone back and forth on this one and I just can't decide. You never know with two teams who are generally over the hill if that is going result in a lot of goals or none.
But based on the two games we've seen, I'm going with 0.5u on Portugal at 1.99.
Just from watching that first game, I liked the way Portugal moved the ball around and how their midfield worked. They were a very flexible team, and played a good game. They dominated the possession, dictated the tempo and took their time.
They also do something neat on tactics that I like where they focus on one particular side at a time and overload it which can be trouble.
I'm only doing 0.5u personally though because I am concerned about how Uruguay play. In theory they attack more but you never know if that is the case. Portugals goals came when Ghana stopped playing so deep and they struggled at times to break them down.
South Korea vs Ghana:
South Korea got a surprising point while Ghana were beaten by clinical finishing.
Ghana will look to attack here but as we saw against Portugal, that leaves them open at the back. Not sure how good South Koreas counter attack will be though.
But you have to think both teams are going to play to win. A draw doesn't help either.
I'm going with 1u on the 2nd half to have the most goals at 2.10 odds. I think both teams will have a feeling out process. Korea will probably step up tight and defensively again, and Ghana looked suspicious when they pushed up so I think they play slow to start as well.
Follow @SBTSportBetting