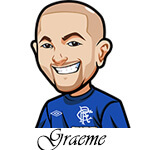 Follow @SBTSportBetting


[Get Exclusive Tips on our Patreon, Ad-Free
]
Well we are finally here – at the end of the World Cup.
I have managed to tip every game (except for skipping that wild card 3rd place game) and it has been quite a fun and profitable World Cup overall.
First a big thank you to everyone who read the tips daily over at SBT (record numbers for the site) and also who signed up at Patreon just for the World Cup bets. That is much appreciated.
The soccer tips won't end there! I used to run the website BetSoccer.ca up until last year when I forwarded it to SBT and I did daily soccer tips on there to a lot of success. Overall record was 528-660 for +82.88u profit over three seasons.
While I don't plan on doing DAILY soccer tips I feel really invigorated with soccer (providing tips daily can wear you down) and looking forward to getting back to it regularly again.
So hopefully you'll stick around for that – I hope to do at least 2 posts per week on the Patreon.
I will likely wait until January to start that however as I'm just a tad burnt out writing tips almost every day for a full month, watching 8 hours of football each day and studying tactics, analysis, data etc etc. Looking forward to a wee break over Xmas!
With all that said…..
France vs Argentina Betting Tips
I was correctly able to call this final and the methods in which they did so. I predicted Argentina to win in 90 minutes, and France to win by at least 2 goals. Although that latter was sheer luck considering the chances Morocco create. Scary how bad France seem to be when they are a goal up.
That's something to seriously consider. Against both England and Morocco, as soon as they have went a goal up, I've felt they look just shocking and a complete disorganised mess. Its very weird and if France score I won't be shocked if Argentina score.
I will be surprised if France divert out of their 4-2-3-1 and we can probably name their starting lineup.
Argentina have rotated the lineup all tournament and a lot of different formations as well.
Everything I look at – and in terms of entertainment I hope I am right – just suggests there will be goals in this game.
France have not kept a clean sheet the entire tournament up until that Morocco game, and they managed to keep a clean sheet by a baw hair in that one.
However they also have a great offense, and can score via build up play, counters etc and are proficient.
Argentina on the other hand have kept 3 clean sheets. However one was against a Mexico team who didn't threaten, a Poland team who had just 26% possession says it all there, and a Croatian team who created the chances but as I've said all tournament – don't have anyone that can put the ball in the back of the net.
Overall on paper, this one will have goals. It may be like that Croatia-Argentina semi-final where it starts cagey, and we need a goal to open it up.
I also find it quite hard to see a 3-0 victory for either side. So I'm going to roll the dice on a higher odds play of Over 2.5 and Yes to BTTS for 2.60 odds.
In regards to the winner of the World Cup, I'm going with Argentina to win and am personally taking them in 90 minutes at 2.82 odds. If it goes to extra time I'll do a live bet on the outcome there, although not sure yet who I will take.
But "To Lift the Trophy" is 1.90 each so I'm fine with betting within 90 minutes and waiting for ET to make that decision.
First, France are being hit with an illness which isn't good. Second, France have exposed that if they score a goal, they can be ripped to shreds. They just look very scary holding onto a lead, and that France -1.5 bet gave me multiple heart attacks against Morocco. So I feel if Argentina go behind, they can get the goals to get them back on level.
Argentina are also feeling confident following that Croatia game, and are playing some good football. Whether they are ahead or behind, they will be dangerous.
I do love this final as I feel it is extremely tight and even. My primary bet is the goals bet and I hope we get that one in so that either way it's a very entertaining game. Honestly, I could just as easily argue that France will be the winners with how good they are at goalscoring.
Enjoy the final, and thanks for reading over the past month.
Follow @SBTSportBetting