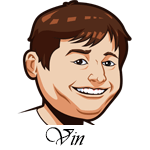 Follow @SBTSportBetting


[Get Exclusive Tips on our Patreon, Ad-Free
]
World Series preview and betting predictions.
3-1 last time.
W Brandon Pfaadt Over 1.5 Earned Runs (-110):
W Ranger Suarez Over 1.5 Earned Runs (-130)
W Ketel Marte Over 1.5 Total Bases from Hits (+102)
L Bryce Harper 2+ Runs+RBIs (+100)
A good night with some tough breaks for Harper and the Phillies.
These are the expected batting averages on his three balls in play.
If you ever wondered why the best in baseball still struggle to hit .300, that's it right there. Not one of those balls was a hit.
Below I have my World Series pick and my picks for MVP. My individual game and player props are available on Patreon.
We are now posting some of our betting tips exclusively on
Patreon
, as well as posting exclusive betting tips there. Here is what you get by supporting us on Patreon:
Exclusive betting tips. Not just the tips omitted from these posts, but many exclusive tips as well.
Ad-free experience.
Priority e-mails; receive the e-mails as soon as the tips are posted rather than hours later.

Arizona Diamondbacks at Texas Rangers
Like many series we've seen thus far there is one team that looks to be clearly ahead of another, but that hasn't meant much thus far. The Rangers and Orioles were underdogs in every series to this point while the Phillies also upset the Braves.
Like all of those series, on paper, the favorite looks like the better team. The Rangers have a much better offense during the regular season and during the playoffs. The Diamondbacks bullpen has been a clear strength if you take away the long relief guys that got pounded. Their top three have been amazing.
Thompson: 10.2 IP – 2.53 ERA/2.60 FIP
Sewald: 8 IP – 0.00 ERA/1.03 FIP
Ginkel: 9 IP – 0.00 ERA/1.63 FIP
Castro: 5 IP – 5.40 ERA/4.06 FIP
The Rangers top four has been more of an adventure.
LeClerc: 10 IP – 4.35 ERA/6.84 FIP
Sborz: 8.2 IP – 1.04 ERA/3.02 FIP
Chapman: 6.1 IP – 1.42 ERA/6.41 FIP
Bradford: 5.2 IP – 1.59 ERA/4.14 FIP
While we're here, comparing the rotation starting with the Diamondbacks:
Gallen: 5.24 ERA/6.93 FIP
Kelly: 2.65 ERA/4.73 FIP
Pfaadt: 2.70 ERA/2.72 FIP
Arizona went with a bullpen game in the next game when needed.
Montgomery: 2.38 ERA/3.52 FIP
Eovaldi: 2.42 ERA/2.68 FIP
Heaney: 8.31 ERA/4.18 FIP
Scherzer: 9.45 ERA/7.16 FIP
The last two both haven't gone past the fourth inning in either start.
Taking this all in, I like the Rangers in six games. The Rangers have a clear advantage in the top two starters, a disadvantage in the Pfaadt game, and the bullpen game will be a toss-up decided by the better offense. That's the Rangers.
We've seen a lot of underdogs in these playoffs, but maybe on the Rangers part that's just because they are better. On July 1st, this team was one of the best in baseball and looked like a good bet to be in this spot with the second-best AL odds to make it here. A ton of injuries and a rough bullpen performance led to them falling down quite a bit, but that team from early in the year didn't stop existing and they seem to have found themselves.
Rangers 4-2 (+375)
Bet Horse Racing - +£21,565.98 profit on £25/pt staking. Click for more details.
(Advertisement but we have tested it out and have been quite impressed with it)
World Series MVP Picks:
I'll do three 0.25-unit bets on these.
Nathan Eovaldi (+1400): Eight of the last ten have been hitters, but my favorite play here is Nathan Eovaldi.
I think there is a pretty good argument that he should've won it in 2018, but his one loss held him back. If he pitches like he has thus far/throughout his playoff career, he has a great shot to win this. He's lined up well for two wins plus a possible relief appearance in the deciding game if needed.
Evan Carter (+1600): Carter has been the third-best hitter on the team in the playoffs with a .308/.449/.538 batting line and he's second on the team in steals. The youth movement has been a story of these playoffs and I can see him pulling a Jeremy Pena from last year would fit.
Corey Seager (+450): Seager has done it before and he's the Rangers' best hitter.


Follow @SBTSportBetting