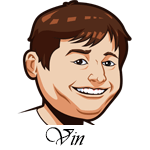 Follow @SBTSportBetting
An 0-2 record in game two. Still winning money overall in the playoffs though.
We've been in a bit of a cold spell and the reason for that is the Boston Red Sox. We are going against them and they are winning these games. There are reasons, of course. They've gotten outstanding production with two outs. 36 of their 68 runs in the postseason (source) have come with two outs. That's not how baseball is supposed to work. They've also been getting production from the bottom of the lineup. Put those two together and projections don't matter.
Take the fifth inning in this last game. Two outs and Hyun-Jin Ryu is facing the catcher Christian Vazquez. This guy hit .207/.257/.283 on the season and he stepped up, got down 0-2 and ended up with a single. Then it was the top of the order with the third time through the order for Ryu and the Dodgers 2-1 lead turned into a 4-2 deficit.
That said, I don't agree with Dave Roberts decision to have him face the top of the order. If Chris Sale and Clayton Kershaw couldn't make it through five, neither should Ryu. Once that third time through the order got up, he should've pulled him. I'm not saying that the result would be different as the reliever behind him, Ryan Madson, didn't do much better, but allowing him to load the bases before pulling him wasn't great strategy when he's been burned by this before. Especially with a top of the lineup as potent as Boston's.
[text-blocks id="137″ slug="email"]
This game should be different. Roberts has also been sticking to his platoons in this one and that has kept Max Muncy and Cody Bellinger out of the lineup. Muncy is one of their best hitters and Cody Bellinger is their best source for power. Keeping them on the bench, even with the splits disadvantage, hasn't worked out thus far. Luckily for those players, there is a righty on the mound tonight.
Unfortunately for the Dodgers, they are also sending a righty to the mound. These two teams were #1 and #2 in wRC+ against right handed pitchers on this year and I am expecting some fireworks from both sides.
Boston Red Sox vs. Los Angeles Dodgers Betting Tips:
Walker Buehler goes for the Dodgers and while I think he's a very good pitcher, a 2.62 ERA/3.04 FIP during the regular season, he has been vulnerable in these playoffs. He had the one bad inning in the first round and allowed 12 hits in 11.2 innings in the NLDS. The Braves and Dodgers aren't even close to the Red Sox in offense. I'm worried.
The Red Sox send Rick Porcello who should be coming in pretty fresh. He made just one start in the ALCS and one short relief appearance. He had a 4.28 ERA/4.01 FIP in the regular season so he's nothing to get too crazy about though.
I have this pegged as another two times through the lineup game for both of these starters. I mean, after what we've seen in the first two games, how could you do any different? I'm not afraid of either bullpen right now (although I do believe Craig Kimbrel is back and Kenley Jansen is good) and I think this is a great spot to grab the over.
Bet Dodgers/Red Sox Over 7.5 Runs
Follow @SBTSportBetting