World Series Game 7 Betting Tips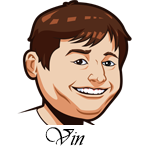 By
.
Hot Bonus Alert: Get a $1,000(!) deposit bonus at
BetOnline
.
1-0 last night. 5-1 in World Series.
Well, this is it. I posted a winner at SportsBettingTips.org yesterday with the over. It was close as this game was stuck at 7 while we had the 7.5 until the 9th inning when it was pushed over by the Nationals.
Last night saw an absolutely gutsy performance from Stephen Strasburg as he went 8+ innings to carry his team to game seven. The tips I made yesterday foresaw an Astros win, but a lot of that is because we don't project a starter to go that deep in the game because nobody goes that deep anymore. The average start is something like five innings or less so this was a big deal. This was the longest start of the playoffs and while it would've been cool to see him get the complete game, it wasn't needed.
This sets up a game seven with the highest possible stakes and the Nationals have Max Scherzer back. He was meant to have started on Sunday, but was a late scratch with a neck injury. He is healthy for this one and will be facing off with Zack Greinke here. This is a huge advantage for the Nationals on the pitching side and the line is one of the lowest of the series.
Washington Nationals vs. Houston Astros Betting Tips:
I made some tweaks to the system for this game as this is definitely an all hands on deck situation. I adjusted the Astros/Greinke numbers down to a 4 innings projection while upping Scherzer all the way up to 7 innings. I improved the bullpens based on these innings projections as the worst pitchers obviously won't be touching this game.
Even with all of that, the Astros are still favored by the system. The system has Houston as a -133 favorite while the current line is -130. That's close and not at our usual value threshold, but if you're looking for a winner pick – there it is. This is the first World Series in which the road team has won all the road games and that streak has to end at some point. Why not tonight?
Scherzer doing what Strasburg did last night is the only real path to victory I see for the Nats. Greinke will be given a short leash and then it's going to be all the best pitchers Houston can throw out. Not enough is known about Scherzer's injury to protect it, but he could be limited and that is a risk of him leaving the game at any time.
I like the Astros to win, but for game seven we're going to roll with what brought us here. Five of six games in this series have gone over the posted total and tonight should make it six. The system sees 8 runs scored even with all the adjustments. The total is 7.5, but if you can get 7 you should grab that.
Bet Astros/Nationals Over 7.5 Runs