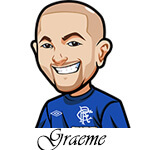 Follow @SBTSportBetting


[Get Exclusive Tips on our Patreon, Ad-Free
]
This weekend, Padraig Harrington's Europe will square off against the USA led by Steve Stricker. We won't be providing betting tips for it but wanted to write an article looking at how some of the legends of golf had performed when they were a captain.
It's fascinating looking at the performances of some of the great golfers. Tiger Woods and Phil Mickelson for example are two of the best players in the golf world. Yet when you look at their record at the Ryder Cup, they have many more notches in the losses column compared to the win column.
Five of the greatest golfers in the Ryder Cup on the European side were Nick Faldo, Bernard Langer, Colin Montgomerie, Seve Ballesteros and Jose Maria Olazabal.
Of the five, Faldo had the most points as a player with 25 points. He is the only one of the five to have actually lost as Captain which was in 2008.
Every other player mentioned won when they represented the Europe Ryder Cup Team as captain. Langer won in 2004, Montgomerie in 2010, Seve Ballesteros in 1997, and Olazabal was the 2012 winner.
It shows that at least on the European side of things, a legend as a player can seem to really perform as captain. It could be why the European team for this weekend's Ryder Cup, led by Padraig Harrington as captain, are favourites at ½ odds.
Betway examine how the greatest Ryder Cup players performed when they were selected to step up as captains with a lot more data, including graphics depicting the information: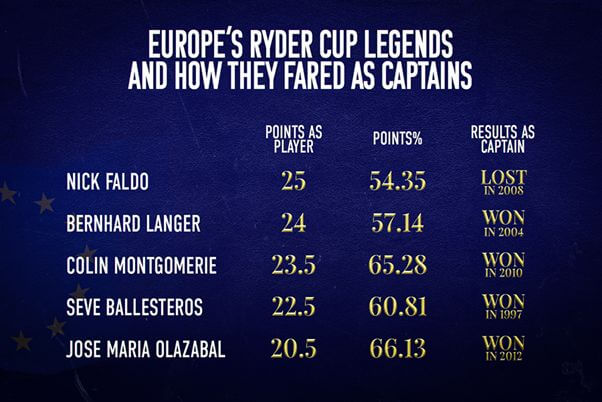 Most notably of those were Olazaal and Langer. Both of whom didn't just win – but won the Ryder Cup in America. Olazabal had the infamous Miracle at Medinah in 2012 when they pulled an amazing comeback victory to win by a point. For Langer, there was no miracle needed as they won by a clear 9 pints in 2004 at Oakland Hills.
Going beyond just the legends to look at all the winning captains' performances, 7 of the 10 hit at least 50% in points, while 8 of them had 10+ points during the Ryder Cup as a player.
One of the only real standouts in the opposite direction was Thomas Bjorn. He captained Europe to a big 17.5 to 10.5 win in 2018 but as a player only had a 3-4-2 record.
Looking at how Ryder Cup legends performed for the USA as a captain – it's no surprise to see that it is the opposite.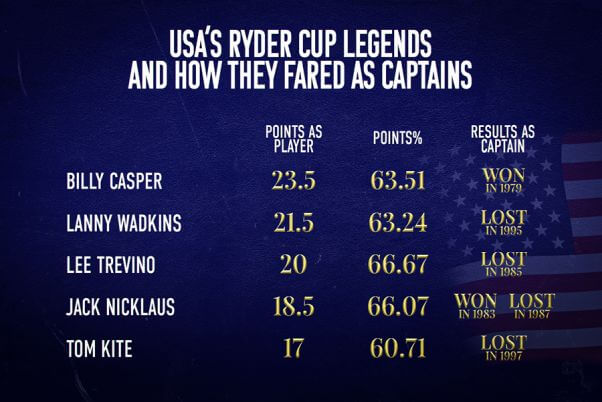 Billy Casper is the only one purely in the win column. He amassed the most points as a player at 23.5, and then won the Ryder Cup in 1979. You've got losses with the other members of the top 5 in Lanny Wadkins, Lee Trevino, Jack Nicklaus, and Tom Kite.
I should note that while Nicklaus has a loss from 1987, he also captained the team in 1983 and won there. His loss is notable as America hadn't lost at home in the previous 13 Ryder Cups.
Not counting Casper – most of the captains who have led the USA to Ryder Cup victory were not really good players at all during the Ryder Cup. Davis Love III for example had a 9-12-5 record as a player at the Ryder Cup, but then led them to victory in 2016.
Then you have Paul Azinger, the 2008 winner of the Ryder Cup. He had a poor 5-8-3 record.
One of the most famous victories for the USA was the Battle of Brookline which occurred in 1999. Ben Crenshaw led the team to victory then as captain, yet going into that he had one of the worst records ever as a player. Ben was 3-8-1 and his ratio of wins was the lowest of all USA captains.
When we look at Padraig Harrington vs Steve Stricker – it might be a good omen then that Stricker does not really have the best record when it comes to the Ryder Cup.
He has a very low percentage of just 31.8, with a poor 3-7-1 record which is similar to Ben Crenshaw. Will we see another Battle of Brookline at the 2021 Ryder Cup? It's possible.
When Stricker was a player he lost twice in 2010 and 2012 and was only on the victor's side once.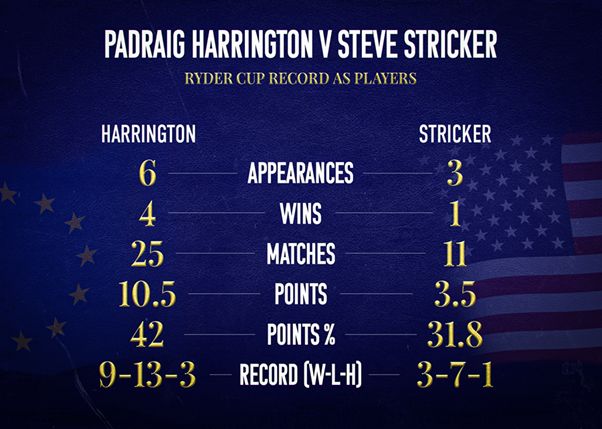 As for Harrington – his player record doesn't compare with the all-time legends, and you have to be disappointed with his 9-13-3 record with a 42% on the points. He was a big factor from Europe for over a decade, picking up the Ryder Cup 4 separate times. That was at a time where Europe was dominating the USA at the Ryder Cup, so it's a bit of a surprise that Harrington doesn't have a better record.
On paper, the American side looks a lot stronger than Europe. Of course, that is often the case. Looking at the two captains though – you have to wonder if Europe should be as favoured as they are. Harrington as a player wasn't anything special. While the data on the USA front suggests that as captain, Steve Stricker may just have the advantage and be able to pull off something similar to the Ben Crenshaw upset from 1999.
If they are down big on that final day – just like in 1999 – don't count them out.
Follow @SBTSportBetting