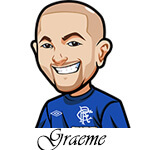 Follow @SBTSportBetting


[Get Exclusive Tips on our Patreon, Ad-Free
]
The San Diego Clippers were a basketball team that played in the Pacific Division of the NBA's Western conference between 1978 and 1984. They were the first NBA team in San Diego since the departure of San Diego Rockets to Houston in 1971. The clippers played in the San Diego Sports Arena (now called Valley View Casino Center).
How Did the San Diego Clippers Start?
In 1978 struggling Atlantic conference franchise, The Buffalo Braves relocated to San Diego and was renamed San Diego Clippers. The idea of relocating came about as a result of a proposal the NBA sent then Buffalo owner John Brown to move the team.
Although Brown willingly agreed to the NBA's proposal, his plan was not to move to San Diego. California native and former Boston Celtics owner, Irv Levin made a side deal with Brown that gave him an opportunity to own a team close to home.
He acquired the team and initiated the move to San Diego. Since the tag "Braves" did not fit well with San Diego's profile, a change of names was required. The name Clippers was chosen, a reference to San Diego's heritage as an active harbor. Gene Shue was appointed its first coach ready for the first season in the Pacific Division.
The San Diego Clippers in Competition
During their inaugural season 1978-1979, the Clippers returned a relatively impressive 43-39 record which saw them finish fifth in the Pacific division. They were only two wins shy of a playoff spot. However, this performance was later touted as nothing more than a lucky start as they struggled during the 1979-1980 season despite adding center Bill Walton to their roster. They finished with a 35-47 record largely due to injuries to key players. Paul Silas replaced head coach Gene Shue for the 1980-1981 season but again the team struggled finishing fifth with a 36-46 record. For the next three seasons, the clippers would finish last in the Pacific Division with the worst season being 1981-1982 in which they only managed a dismal 17-65 record.
San Diego Clippers Notable Moments
In the 1979 preseason, just after acquiring star forward Bill Walton, the Clippers were in inspiring form. They beat a number of teams including the Los-Angeles Lakers who at the time boasted the services of Magic Johnson and Kareem Abdul-Jabbar.
In 1981, Levin sold the team to lawyer and real estates mogul Donald Sterling. Sterling owned the franchise and its successor franchise Los Angels Clippers since, and this association only ended earlier in 2014. He was compelled by the NBA to sell following his infamous racial comments regarding his girlfriend associating with black players.
Notable Players Who Played For the San Diego Clippers:
World B. Free: Free earned the nickname "World" for his leaping power, a strength for which he was renowned alongside his high-risk shots, flamboyance and energetic play. He finished second to George Gervin in the average scorers list for both the 1979-1980 and 1979-1980 seasons. He set his personal best performance in the 1979-1980 campaign, averaging 30.2 points per game as well as 4.2 assists and 3.5 rebounds per game.
Bill Walton: Walton, brought in in 1979 from Portland Trailblazers, where he had achieved legendary status, was perhaps more notable for his injury woes than for his on-court performance. Walton had a persistent foot injury that kept him out of a sizeable chunk of Clipper's games during his five-year stay. In his first season, he only played 14 games but this improved to a high of 67 games in 1983-1984. He endured a frustrating Clippers career, leading him to remark that he was the "most injured player ever."
Randy Smith: Smith was a feared forward who moved with the franchise as it relocated from Buffalo to San Diego. He played with the clippers between 1979 and 1981 and 1982-1983. During his first stint with the Clippers, he averaged over 20 points per game for the fourth year in a row, stretching from his time with Buffalo Braves. During his brief break to play for the New York Knicks in 1982 he set the NBA record for most consecutive games played, 906 games.
What Happened To The San Diego Clippers?
Following his acquisition of the team in 1981, Donald Sterling had expressed his wish to relocate the team to his native Los Angeles. Game attendance had dipped significantly from 9230 to 5,477 fans per game and Sterling saw the potential move as a viable way to prevent the franchise from going under. In May 1984 despite fierce objection from fans, Sterling announced that he would be moving the franchise to Los Angeles, following approval from the NBA. This officially concluded the San Diego Clipper's 6-year existence. The new team was renamed the Los Angeles Clippers and is still in existence today.
Follow @SBTSportBetting