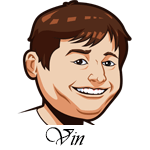 Follow @SBTSportBetting


[Get Exclusive Tips on our Patreon, Ad-Free
]
The best thing about fantasy football is when you are completely wrong about a player. Well, actually that is the worst thing because being wrong usually ends up costing you money. Let me correct that: The best thing about fantasy football is when you are completely wrong about a player and you correct yourself and pretend like you were on them the whole time.
Earlier in the season I was high on Tom Brady. Not anymore. I was way down on anything Giants just two weeks ago. Now? Rashad Jennings is my favorite fantasy running back. This is the gift that daily fantasy football gives us. The ability to be wrong and correct ourselves next week. We're not stuck with these picks. I can turn on any of them next week and pretend I never liked them. I can throw them away and get new players, just like that. Guys that I've secretly hated before, but now believe in with all my heart. I love it.
So let's say adios to Calvin Johnson (for now) and get to this week's picks.
Fantasy Football Sleepers Week 5: QUARTERBACKS
DRAFT
Ben Roethlisberger: Coming off a 26 point effort last week, this week he gets the Jaguars who have given up 30+ to opposing quarterbacks for the past two weeks and at least 20 in every game this season. Roethlisberger has looked like the Ben of old at times this season and a soft matchup should continue that trend.
Cam Newton: A gut call here, but the Bears defense will be the easiest match-up that Newton has had all season. Last week Aaron Rodgers went crazy on the Bears defense and while I don't see a game like that for Newton, I do see a pretty good one. Definitely a good buy low candidate.
Phillip Rivers: Averaging 22 points per game and playing against the 28th ranked defense in the league. What am I missing here? (To be fair, the Jets have had 4 sacks in each of their last three games, but still.)
DON'T DRAFT
Tom Brady: I am sure there are tons of stats out there about the Patriots after a loss or Brady after a bad game, but you need to just forget about all that. They play the Bengals D who are coming off a bye. Run. Run far away from Brady and all his weapons.
Fantasy Football Sleepers Week 5: RUNNING BACKS
DRAFT
Rashad Jennings: Atlanta's defense has allowed 123+ yards in three out of four games this season and 97 in the other. Rashad Jennings has carried the ball at least 16 times in three out of the four games. He is one week removed from a 176 yard game. YES TO ALL OF THIS.
Khiry Robinson: After a 12.5 point game his value went down at Draft Kings. ??? If the Saints would've been able to make it close, he could've easily had a 20 point game. Pierre Thomas, the guy who is always more expensive than him, only had 4.3 points. I don't get it. I'm going to keep putting this guy in this column until Mark Ingram comes back or he gets expensive.
Ben Tate: Or Ben Tate If He Plays. If he plays he should be the lead back against a team that is allowing over 120 yards a game. I'll take my chances on this buy low candidate.
DON'T DRAFT
Montee Ball: The Cardinals defense does not allow rushing yards. The Broncos offense doesn't really like rushing that much anyways. No, thank you.
Fantasy Football Sleepers Week 5: WIDE RECEIVER
DRAFT
Antonio Brown: The most expensive WR in many fantasy formats, but I don't care. He's had over 31 points in his last two and 25 in three out of the four games this season. He's been the number one fantasy wide receiver and it hasn't even been close. This week he gets the Jaguars who had TWO WRs have 26+ point games against them last week. Take Brown.
Markus Wheaton: See above.
Percy Harvin: The Seattle Seahawks favorite toy should have a nice game against a soft Redskins defense. The fun (and scary thing) about starting Harvin is you never know how you are going to get it. Sometimes he gets a 51 yard run, sometimes he gets a bunch of catches. It's exciting to start Harvin.
Vincent Jackson: I didn't have it in me to recommend Mike Glennon again this week, but I do like him. The main reason? Vincent Jackson. He loves throwing to him. While he only caught three passes last week, he was targeted ten times. Including in the fourth quarter when they were in the red zone when every play was "throw to Jackson in the end zone". I think they get more comfortable together and have a big one this week.
DON'T DRAFT
Calvin Johnson: Under 100 yards in three straight games. He's more of a decoy right now and the Bills aren't allowing big passing numbers so far this season.
Fantasy Football Sleepers Week 5: TIGHT END
DRAFT
Larry Donnell: Just a straight-up prove me wrong pick. At least five catches in every game and he's a huge red zone target, with three TDs last week. I don't know if he's for real, but I am taking him.
Delanie Walker: You can get him at a pretty good price considering he is the fourth best points per game TE playing this week. He leads the Titans in receiving yards and touchdowns, and he also has a touchdown in three out of four games. Prove me wrong.
DON'T DRAFT
Julius Thomas: What can I say, I'm high on the Cardinals defense.
Fantasy Football Sleepers Week 5: DEFENSE
DRAFT
Green Bay Packers: There is a solid chance that Christian Ponder starts this game for the Vikings. That is all.
Kansas City Chiefs: They looked good last week and I am down on the 49ers this season. Sometimes it's just that simple.
DON'T DRAFT
Buffalo Bills: Going as one of the top priced defenses in fantasy, but they are 7 point underdogs. Does not compute.
Follow @SBTSportBetting