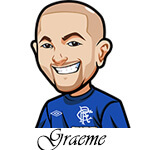 Follow @SBTSportBetting


[Get Exclusive Tips on our Patreon, Ad-Free
]
The Bruce Grobbellar Betting Scandal was a scandal in which former Zimbabwean keeper was accused of colluding with bookies to throw games during the 1990s when playing for Liverpool and later Southampton. The scandal was one of the lowest moments in English Football and had far reaching implications on all the parties involved. Grobbelaar is remembered for a game against Roma in the 1983 European Cup in which he comically wobbled his knees on the goal line to affect the concentration of Roma player Francesco Graziani who was about to take a penalty, provoking him into a wild miss.
How did the Bruce Grobbelaar Betting Scandal unfold?
The details of the scandal emerged following an expose that appeared in the Sun in November 1994. In October 1994, Grobbelaar had been secretly taped by his friend and fellow countryman Chris Vincent in a Southampton hotel confessing about accepting bribes to throw matches. During his conversation with Vincent, Grobbelaar talked about throwing at least three games as well as trying to throw a few others. The video tapes were presented as evidence against Grobbelaar who was charged alongside John Fashanu and Hans Segers of Wimbledon FC both of whom were working with the same Singaporean betting syndicate as Grobbelaar.
The three games that Grobbelaar confessed to have thrown were;
Liverpool versus Newcastle United in November 1993- Newcastle won 3-0 thanks to three goals scored by Andy Cole. Grobbelaar reportedly earned 40,000 pounds. One of the goals suspiciously slipped through the goals but expert analysts in court, including former Arsenal goalkeeper Bob Wilson told the court that there was nothing Grobbelaar could have done to stop any of the goals.
Southampton versus Coventry in September 1994- Grobbelaar told Vincent that he would have received a fortune had Southampton lost 1-0. Instead even after he had intentionally put the ball into his own net to put Coventry in front, his team rallied to win 3-1.
Manchester City versus Southampton-for this game, Grobbelaar declared that he was promised 50,000 pounds to make sure Southampton lost by a single goal. Southampton were one goal up but the game would end 3-3. Again experts were of the opinion that there was little the goalkeeper could have done to prevent the three goals his team conceded.
The keeper also confessed to have had the intentions of throwing a game against Manchester United in 1994. He claimed to have dived the wrong way but the ball hit his hand, costing him 125,000 pounds. The Sun also filmed Grobelaar accepting Vincent's offer to throw a game between Southampton and Liverpool at the end of the 1994/1995 season in exchange for 134,000 pounds. Vincent told Grobbelaar that he would receive 2000 pounds each fortnight and 100,000 pounds for each game that he fixed successfully. On their part Segers and Fashamu did not pursue legal action against the Suns and Segers continued playing for a while.
It later emerged that Vincent who had been a longtime acquaintance of Grobbelaar's had been promised 33,000 pounds for his story and stood to earn much more if the latter was convicted. The two had been members of the Zimbabwean Army during the colonial days and had remained distant acquaintances until 1989 when Vincent came to England and they became close friends. Vincent had suffered a string of poor business investments which had left him with debts of 90,000 pounds by the early 1990s. The reward offered by The Sun therefore offered real hope for him to get over his financial woes and there was promise of more money by publishing a book. Despite the hit in reputation from the scandal Grobbelaar insisted to press that his dream was coach Liverpool one day. He in fact had a modestly decent career managing various soccer clubs teams in southern Africa and even had two short stints with the Zimbabwe national team.
Two successive juries were unable to agree on a verdict and the trio were cleared of their charges in November 1997. Grobbelaar then successfully sued The Sun for libel and was awarded 85,000 pounds by the court. The Sun would appeal against the ruling and in the new ruling the award was reduced to just 1 pound by the House of Lords after it decided that there was enough evidence of dishonesty on Grobbelaar's part. In addition, Grobbelaar was ordered to pay 500,000 pounds to The Sun as cover for their legal costs. Unable to pay the damages, Grobbelaar declared bankruptcy and retired shortly after.
Follow @SBTSportBetting