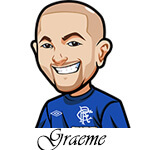 Argentina will take on Iran on June 21st, 2014 as Group F gets onto the 2nd round of games. The other game in that group, Nigeria vs Bosnia, will take place a little bit later that day.
Argentina will be hoping for a much better outing than in their previous fixture, where they defeated the Bosnians 2-1. However I think a lot of people underestimate Bosnia – we've said from the beginning that they are a quality team, and recommended Bosnia Draw No Bet in that match – a bet that despite the loss, you have to say was a smart bet to make.
Argentina will be hoping for more from Messi as well, who had an absolutely abysmal first half. Really – if Argentina hadn't got that early own goal – who knows what would have happened in that match.
Iran did a good job in drawing 0-0 with Nigeria, although it was one of those games where it could have been a lot different if Nigeria had a confident striker who could actually finish a ball. They had 63% possession over Iran, and 10 shots with 6 on targets. Plus so many missed chances. So, so many.
Should be quite an interesting game here. On paper, Argentina should absolutely destroy Iran – but on paper is often never the case, especially in the World Cup.
Argentina vs Iran Betting Odds:
Argentina To Win: 1/8
Draw: 9/1
Iran To Win: 25/1
Over 2.5 Goals: 8/15
Under 2.5 Goals: 7/5
The best odds for Argentina vs Iran
Argentina vs Iran Betting Tips:
Unless Iran throw in one of the best defensive performances of all time(see: Rangers 0-0 Man Utd from September 2010), Argentina really should just destroy them here.
I mean you can basically sit there and picture the game. Iran sitting back, parking the bus, while Argentina pass it around and unlock their defense time and time again. if Iran dare attack then Argentina can just capture them on the counter attack.
The tricky thing though is the betting odds. They are not favourable at all . I mean 1/8 odds – ugh. I just can't imagine betting $800 to win $100 there.
Over 2.5 goals is a bit more tempting, and if you're looking for a straight bet with a decent risk/reward ratio it's Over 2.5 goals.
Bet Over 2.5 goals
Argentina vs Iran Betting Props:
Sometimes when betting – you have to come to a conclusion about a match, and then look at betting it from there on out. It might not work out that way – but that's football. Like Holland vs Spain – most people expected it to be a tight affair. So you go with that, then you look at bets like 0-0, 1-0 and Under 1.5 etc. Sometimes you're wrong – drastically wrong – but it happens.
We're going to go with the assumption that yes – Argentina absolutely dominate Iran here. It's hard not to.
Based on that, we like the handicap of Argentina -2. The odds on this are 21/20. It means Argentina must win by at least 3 goals, which is possible.
You can also play it a bit safer by going with the Asian handicap of -2.0, -2.5. Just in case it's only 2 goals they beat them by.
But on paper, Argentina utterly destroy Iran, and we're going to go with Argentina -2 hoping that by the end of the game, we're kicking ourselves for not betting -3 or -4 or -5.