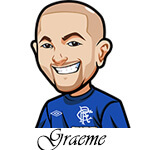 Going into the World Cup, it wouldn't be a surprise to know that this game on June 24th, 2014 would feature one team who has already progressed, and one team who is already eliminated.
We just didn't expect it to be Costa Rica that has progressed, and England that are eliminated!
The English have had an extremely poor showing this World Cup. Sure – they lost to two great teams in Italy and Uruguay, but it has been a tournament rife with both mistakes and tactical errors from the England camps, as well as just poor player choices. I mean Rooney was playing just ahead of Gerrard in the match against Uruguay yet it took Gerrard 85 minutes to make a completed pass to Rooney in open play. Seriously?
Costa Rica have stunned everyone – yet you still have to wonder just how good they actually are. I feel bad here in not yet rating the Costa Ricans – but in the first game against Uruguay, that was more Uruguay taking the lead, and then not knowing how to hold or protect the lead and gifting away possession, all while lost without Suarez. Then against Italy – the Italians were just a disaster out there lacking passion.
Hopefully I'm wrong though – there's nothing I love more than a good underdog story. So as we go into this game – will England be able to walk away with some national pride much like Spain did against Australia 24 hours earlier? Or will the Costa Ricans continue to upset the odds, and have a perfect group record?
Costa Rica vs England Betting Odds:
England To Win: 4/5
Draw: 3/1
Costa Rica To Win: 7/2
Over 2.5 Goals: 7/10
Under 2.5 Goals: 11/10
The best odds for Costa Rica vs England.
Costa Rica vs England Betting Tips:
Part of me is offended at the betting odds, and the sheer obnoxiousness of the bookmakers. Despite the fact that Costa Rica beat the two teams that beat England, they still go into this game as underdogs. What the hell do they have to do to get some respect?
On the other hand – yeah, I like England too.
We made out with some easy money yesterday on Spain, where I said bet Spain -1 at the very least, and possibly -2. I'm sorry Costa Rica – I do respect you guys and what you have done, but I just think England will work on restoring their national pride here, and with a good few changes they will be a team that is up for it.
So based on that, England 4/5 is an easy bet. I'd go with it all day long.
Bet England to win
England vs Costa Rica Betting Props:
I also like the handicap. Personally I think England win by at the very least 2, and possibly 3 and our simulation pre-World Cup agrees. -1 is 15/8 and -2 is 9/2. It just depends how much you want to risk. I'd probably go with England -1 at 15/8. No point putting a huge risk on when Costa Rica have already shown they can beat the big teams. I mean they beat Italy and Uruguay and we're going to bet money on England to win by at least 3?
Nah.
Bet England -1 at 15/8 odds.