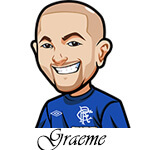 On June 21st, 2014 Nigeria will take on Bosnia. Argentina will have played Iran earlier that day, and so this will be the second game for both teams in each group.
Bosnia will be coming into this one off the back of a crushing loss to Argentina. That must've been a frustrating game for them – they played excellent, and if it wasn't for a brutal early own goal who knows how things would have went. The Bosnians put in a very solid performance, nullifying the Argentinian wing backs, winning a good few key battles in midfield – and didn't do too bad in the second half either. Tactically Bosnia were not at their most efficient, yet they still managed to put in a good performance and almost tie the game.
Nigeria were part of the worst game so far this World Cup, in a 0-0 draw against Iran. Nigeria just refused to adapt really – they rely on the counter attack, but Iran wouldn't push up enough to allow them to do that – so they drew. Nigeria did have a lot of chances though, and if they had someone who could just put the ball in the back of the net it could've been completely different.
Nigeria vs Bosnia Betting Odds:
Nigeria To Win: 18/5
Draw: 27/10
Bosnia To Win: 17/20
Over 2.5 Goals: 1/1
Under 2.5 Goals: 4/5
The best odds for Nigeria vs Bosnia.
Bosnia vs Nigeria Betting Tips:
This is actually quite a tricky game to call. Like I said above – Nigeria are mostly effective on the counter. They didn't get to do that against Iran, but will against the Bosnians. Yet Bosnia held up well against Argentina, who you would expect to be lethal in any sentence involving the word "attack".
This is quite tough because the Nigerian team we saw against Iran will be completely different against Bosnia, who will be attacking. A lot depends on how the Bosnians will handle the counter attack of the Nigerians.
However we believe in Bosnia. We liked them as the dark horse of the tournament, and felt they were good enough to beat Argentina. They looked great in qualifying, and we're going to stick with that. They've played counter attacking teams before, and Nigeria really lacked good finishing.
Bet Bosnia to win at 17/20 odds. .
Bosnia vs Nigeria Betting Props:
Personally – I don't know if I like any of the betting props available for this one.
We haven't yet seen how the Nigerians will work on the counter attack. Against Iran, where they had to build up the chances and work the ball into the box it didn't work well. It's going to be a completely different team against Bosnia, a different formation etc.
I think Bosnia 17/20 is a fair enough price, and what I would recommend going with. Just stick with that.