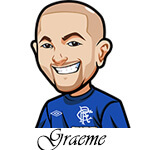 Follow @SBTSportBetting


[Get Exclusive Tips on our Patreon, Ad-Free
]
Hi guys,
Throughout the website you've obviously seen betting tips for every game in question, the groups, as well as futures such as Top Goalscorer and Top Team Goalscorer. The issue however with all that is that there are some things that are obviously not worth betting, due to the odd or various factors that are still unknown such as lineups and fitness etc.
Despite that, we have did our best to offer our individual analysis on each game, and each bet.
In this section of the website however, I'm going to be running my own little betting challenge. These are bets that I will ACTUALLY be making mainly via the tips on this website, and these are the ones that I'd recommend most that you follow.
The challenge is simple: Double My Money Or Bust.
To keep it simple – all of the bets will be placed at Bet365. I have loaded my account there to $5,000 and the aim is to get my balance to $10,000 by the end of the tournament – or go bust trying.
There will be no in-play bets or anything like that – as much fun as they are, I'm going to try and rely on a combination of futures and pre-match bets. It makes the betting slightly more difficult as in-play there is a lot of value to be had, but it will also force me not to be impulsive.
I also plan on practising solid bankroll management. I'll be placing bets of $100-$200 with the $5,000 balance, although may increase or decrease the bets as my balance fluctuates.
These are my own personal bets and not the "official" tips of the website, although 99% of the time they will be exactly what we tip on the website.
So first of all, I'm looking at top team goalscorers. These are the bets I've made so far:
Top Team Goalscorer Bets:
Argentina Top Scorer: Higuain 7/2. $200.
Bosnia Top Scorer: Dzeko 11/8. $100.
Croatia Top Scorer: Mandzukic 11/4 $100.
Croatia Top Scorer: Modric 20/1 $50.
Costa Rica Top Scorer: Bryan Ruiz 6/1. $50.
Cameroon Top Scorer: Samuel Eto'o 10/3 $200.
Germany Top Scorer: Mesut Ozil 9/1 $100.
Ghana Top Scorer: Asamoah Gyan 7/2 $200.
Greece Top Scorer: Konstantinos Mitroglou 4/1 $100.
Holland Top Scorer: Robin Van Persie 5/4 $200.
Italy Top Scorer: Ciro Immobile 5/1 $200.
Ivory Coast Top Scorer: Yaya Toure 7/2 $50.
Japan Top Scorer: Keisuke Honda 5/1 $50.
Mexico Top Scorer: Oribe Peralta 9/4 $200.
Portugal Top Goalscorer: Postiga 11/1. $200.
Russia Top Goalscorer: Alexander Kerzhakov 10/3. $100.
Spain Top Scorer: Rodriguez Pedro 11/2. $50.
Switzerland Top Goalscorer: Xherdan Shqiri 8/1. $100.
USA Top Goalscorer: Dempsey 11/4 $100.
So whew – we've actually bet over half our balance already on these futures. $2450 is the balance after that.
However I expect a lot of them to pay off come the end of the group stages, so it's all good.
I'm also throwing $50 on Top Goalscorer at the World Cup to be Immobile. 66/1 odds there.
Finally with the first World Cup game being tomorrow, I'm going with $200 on Brazil-Brazil, as in Brazil leading at half-time and full time. Croatia are a good team but I like Brazil to push, push, push.
Current Balance after all that is $2200.
I'll be back tomorrow with my bets for Fridays games.
Follow @SBTSportBetting